I have known about Lottabody for years. I grew up knowing that Lottabody's setting lotion was the go to product to get the perfect roller set. I was amazed to see how much they have expanded and created versatile products that naturals can benefit from as well. My product review is on Lottabody's Curl and Style Milk.
This product as stated on the label, is for relaxed and natural hair. The first few ingredients are water, shea butter, and glycerin which all assist each other with moisturizing natural hair. As listed on the bottle, this product is made with coconut and shea oils and designed to hydrate hair from the inside out so hair is left feeling soft and nourished with a brilliant shine. It also mentions that it doesn't flake and is made to smooth, protect, and define curls.
The directions for the Moisturize Me Curl & Style Milk indicates for it to be used on damp, towel-dried or dry hair and to distribute evenly through hair with fingers from roots to ends and style as desired. I do what most people do before applying products to their hair, which is to smell it. As mentioned previously it contains coconut and shea oils but it also includes sunflower seed, soybean, avocado, olive fruit, and macadamia oils. In my opinion, it has a fragrance of a newly opened packet of cherry flavored koolaid. It has a bit of an overpowering smell, but once in the hair the fragrance is not as loud.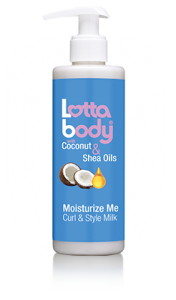 For the most part my hair is a cross between curly and coily and from time to time there will be a patch of kinky and wavy. To begin, I started with freshly washed and conditioned hair. I actually did an apple cider rinse to assure I did not have any product build up from any previous products that I used that could possibly interfere with the review. I then "t-shirt" dried my hair and sectioned it off. As I worked with each section, I lightly spritz with water and smoothed in the product in each section from root to end as the directions stated. Since I big chopped 4 months ago, my go to style is usually a finger coil, which I proceeded to do in each section.
The consistency is creamy almost like a thick lotion, but not too thick. I think it was a brilliant idea to have it in a bottle that has a pump. I will say that my hair liked this product. It has a great slip which makes it easy to manage and comb through my hair. It does not flake or leave those annoying gunk balls that some products may leave throughout the hair. The shine is amazing and each curl had a nice spring appeal after I finger coiled each section. Even after my hair air dried my feelings were the same. My hair was soft, moisturized, and had a soft hold. The frizz was minimal. I will say this one is a keeper.
This product worked well for me and I am curious to see what other styles I may incorporate by using this product. If the smell was toned a little more it could receive a higher rating, but for now it gets an 8. Even though it is not a bad smell some people may get discouraged or think that they may be too sensitive to use just because of the initial smell.
WHAT IT SAYS ON THE BOTTLE
Coconut and shea oils deeply hydrate hair from the inside out, leaving hair soft and nourished with brilliant shine. Moisturize dry, frizzy hair for springy, hydrated curls. Detangles, conditions, and controls curls while adding brilliant shine, body, and bounce.
Product Benefits:
• Defines curls
• Tames frizz
• Adds moisture & brilliant shine
• For relaxed & natural hair
Please leave your reviews below and be sure to state your hair type or add it to your profile. As we receive more reviews we'll update "The Breakdown" summary.