We have admired Kimberly Kimble since we learned she was the stylist of choice for Beyonce! Ms. Kimble is a third-generation hair stylist, having started as a shampoo girl for her mother at the family salon in Los Angeles. She has a formal education in hair care, training professionally at both Vidal Sassoon Academy and Dudley Cosmetology University in North Carolina.
Her work on B*A*P*S, starring Halle Berry, led to more jobs in the entertainment industry where she worked with Brandy on the TV movie Cinderella and Beyoncé on Austin Powers: Goldmember. To this day, Kim serves as the primary stylist on all of Beyoncé's movie, television and music projects in addition to working with celebrities like Lady Gaga, Rihanna, Shakira, Mary J. Blige, and even the iconic Miss Piggy. Some recent highlights include doing Beyonce's hair for the 2013 Super Bowl, and Shakira's hair for the 2014 World Cup in Brazil. Kim also works with up-and-coming stars like Zendaya and Iggy Azalea.
We caught up with Kim to get the scoop on her new Kimble Beauty Bounce Back Curl line.
You're a 3rd generation hair stylist. Would you say the profession picked you or did you know definitively that you wanted to work with hair?
I am a third generation hairstylist so having a career in the beauty industry was a natural progression for me. However, I did want to be a fashion designer at one point. I was so impressed by the beauty business that I stayed in hair. Working on hair shows had an impact on me and I learned that there was more to this business besides standing behind the chair.
You have a stellar resume with a client list other hair stylists must drool over! How did you break into the entertainment world?
Thank you. My biggest breakthrough was when I did the movie B.A.P.S. The biggest celebrity is Beyonce. I met her while working on Carmen Jones: a Hip Hopera. She wasn't my first celebrity client but my biggest. I knew that I wanted to go beyond the chair and embark on something different. I wanted to travel and grow. I wanted to do more. I had done a little prior to her but she opened bigger and more doors being a hairstylist and building a name for myself which catapulted me on another level because of her celebrity and her status. She really blew up.
Do you (or did you) ever get nervous working on celebrity's hair? We can only imagine the pressure!
Yes, I still get nervous because if they are a new client, I want to make sure that they are happy. It is interesting getting to know someone's needs.
And with the award shows comes the Red Carpet and the Fashion Police will tear someone out so I'm nervous for them! Image is super important for a client. Making sure you are giving the right look is important. You never want to be afraid to take risks – without risks, there is no reward.
I never want to look back and wonder if they did the right thing. I don't want to be behind the times. The look should be on the cutting edge. I like to set trends and make sure there's positive feedback.
You have an incredible brand, and it keeps growing. Can you share 3 pieces of advice for others building a personal empire?
Thank you. Three pieces of advice would be:
At the beginning, you always have to start with a plan. Write your vision down and plan it out with a business plan or vision board. You can't grow a brand without a strategy. You also need to meet constantly to revamp the strategy and see if it's still working for you.
Make sure you have you need a great team around you. Look for people that are smarter than you and can help you grow to get you to that next level. Teamwork makes the dreamwork! You need one visionary and a strong team to help grow it.
You cannot change what you really believe strongly. Find a great mentor who's done it and then stay focused on what you are looking to do. Try not to be indecisive changing your mind too much. See what works and go for it. Go with what's on your heart to do and don't be afraid to take risks that come into play.
Your new line Kimble Beauty Bounce Back Curl is available exclusively at Sallys. Congratulations! How does this line differ from your other product lines (K2 Beauty; Kimble Beauty and HairDrobe)?
K2 Beauty is my first line of products. I developed this line with professional hairstylists in mind and if offers a wide range of products. HairDrobe is my line of hair extensions and wigs that can be purchased at my salon or online at kimkimble.com. We can customize the wig to your needs including cut and color. We also offer professional cleaning service for our HairDrobe pieces to help them last longer. Kimble Beauty is my newest product line. We recently launched my Kimble Beauty Bounce Back Curl line at Sally Beauty Supply stores and online at sallybeauty.com. I love to create products so am happy to share them.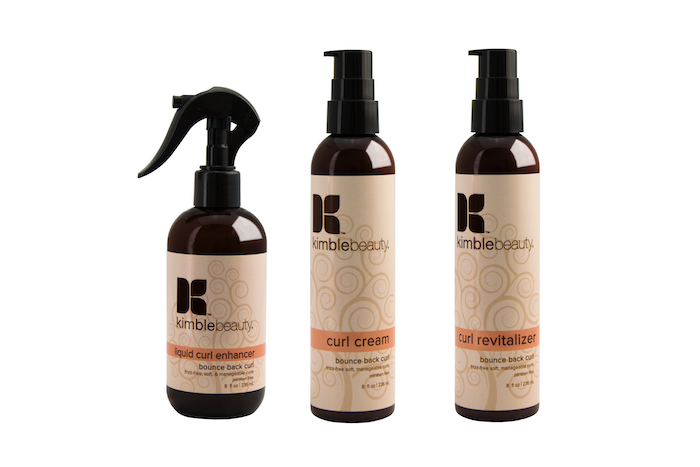 So many African American/Black women have been embracing their naturally curly hair over the last 10+ years. Does your new line Bounce Back Curl address the hair concerns this community often struggles with (i.e. moisture retention etc.)
Yes, I created the products knowing that hydration is the key to curly hair for the overall health and curl definition. You can't have a product that is going to dry the hair out or not give you what you're looking for so I recommend cocktailing two to three products to customize your curls. I like to mix my Kimble Beauty Bounce Back Curl Cream with my Kimble Beauty Bounce Back Curl Revitalizer in the palms of my hands and then comb through. This gives me the hydration that my curls need while adding gentle hold without the stiffness. There is no shrinkage, which can be a concern for curly girls, just well-defined curls.
What's next for Kim Kimble and her brand?
Curl domination! I am working on more products to launch later this year. I also want to continue to provide education and grow the brand. I plan to do more education around the country.