One of the coolest parts about naturally curly hair is the endless style options. While I'm typically "Team Wash n' Go," I love a good bantu knot-out, particularly on blown out hair. Bantu knots on natural hair give you the option to have heatless beach waves or a fuller curly look, depending on how you create your knots. Whether you choose to knot freshly washed hair or hair that has been straightened, you can get totally different looks with one technique.
STYLING OPTIONS
It's important to consider the end result you're trying to achieve before you start on your knots. You can Bantu knot freshly washed hair, but remember shrinkage is real! Bantu knots on freshly washed hair will give you a voluminous, tightly curled, fluffy bob.
Curls Understood recommends The Doux's SUCKA FREE™ Gentle Cleansing System to clean your hair of any product build up before styling. The sulphate and parben free system is gentle on chemically-stressed, brittle, or color-treated hair. Ultra-hydrating, tangle and frizz-free hair worn curly or straight.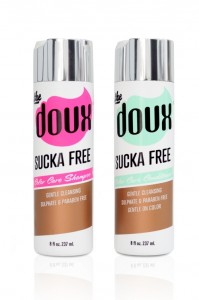 For a longer, wavy look, create your bantu knots on stretched hair that's been either flat ironed or blow dried. This will give you a tousled style with elongation, bounce, and body.
Whichever bantu knot-out option you choose, there are a few do's and don'ts to remember to get your desired look while maintaining the health of your hair:
DO'S
• If you decide to do a bantu knot-out on freshly washed hair, you still need to allow your hair to dry for at least 40 minutes. Styling your hair while wet can cause extreme breakage due to the over-manipulation it endures from the twisting process.
• More knots means more curls. Keep this in mind when you're sectioning your hair. Want more fluff? Add more knots. Looking for waves? Less is more.
• Be sure to use a moisturizing leave-in conditioner and an oil. This will seal in moisture as you twist and baby your ends as well.
• Use large or small hair pins depending on the length of your hair. Make sure the pins have rounded tips to avoid scratching or scarring your scalp.
• Coat your fingertips with a light oil to safely remove the bantu knots. This adds shine and makes it easier to gently separate the hair for styling.
• To get your best bantu Knot Out, hold one finger to the scalp for placement and begin twisting the hair in a circular motion until your hair is a corkscrew. Tuck in the ends of your hair under the knot and place the pin under the knot to lock it in place.
DON'TS
• Avoid heavy oils for your bantu knot-out. You want your hair to move and bounce. You don't want your hair to be stiff so stay away from butters, pomades, or anything with hold.
• Never use rubber bands to keep the knots in place. Rubber bands can cause breakage, stick with bobby pins.
• Be careful when twisting and knotting. You want to avoid breakage as much as possible, so try not to twist too tightly.
• Try to avoid re-twisting the hair daily, this will only cause over-manipulation and breakage.
Follow these do's, heed those don'ts and you'll be dubbed the Bantu Knot-Out Queen of 2016!