When it's cold outside it's better to keep it simple. The colder it is, the less inclined I am to wear a wash and go, or other styles where my hair takes a long time to dry. Wet hair and cold air just don't mix. Here are three easy hairstyles that are cute and super easy to rock all winter. The best part? They each require just two materials: hairties and bobby pins and less than two minutes of your time.
1.
Pineapple
The pineapple, also known as the universal natural hair bedtime staple, can double as your daytime do. Start with fresh (or a few day old) curls. Pull all of your hair to the top of your head, just off of your forehead. Put all of the hair in a lose ponytail and fluff to your desired width.
Gently tug on the hair and the hair tie to position the pineapple to your liking. Pin down any shorter hairs that may not have fit into the ponytail, and viola! Just make sure your ends are moisturized and sealed.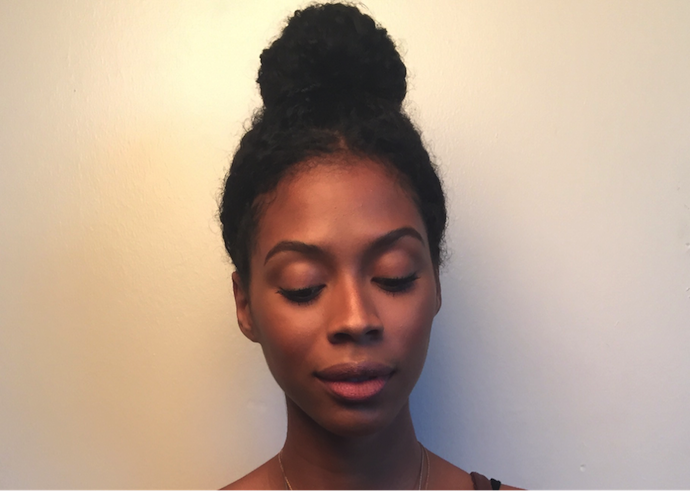 2.
Top Knot
Both classic and chic, the curly top knot can go with you from day to night. Using a large (or slightly stretched) hair tie, smooth all of your hair to the top of your head and put it in a ponytail once, prepare to wrap the hair tie around your hair a second time for a more secure ponytail. Then, twist the ponytail around to create the bun, pin it in place and you're all set. Baby hair 'fleeking' is optional. ;)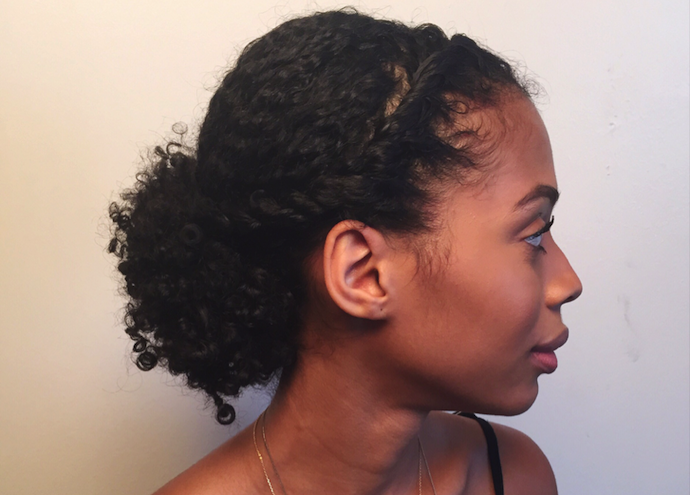 3.
Romantic Flat Twist Up Do
This romantic do is the perfect hairstyle for date night. Start by separating the hair into two sections, with most of the hair in the back to create the bun. Pin the front section out of the way and pull the hair in the back into a ponytail. Prepare to wrap the hair tie around your hair a second time similar to the top knot, only this time do not pull your hair all the way through. This will create the curly ends.
Now for the flat twists. Part the front section of your hair down the middle. Starting on one side, two strand twist your hair, grabbing hair from the rest of the section as you go along. This will make the twist flat to your head. Twist all the way to the end and move on to the next side. Now pull both of the twists' ends to the back and wrap them under the bun. And there you have it! You're ready for a night on the town.
Want to learn what exactly goes into your hair products – the ingredients, the formulas, is it safe? Get your hands on our product ingredient dictionary, Know Thy Curls: The Ultimate Product Ingredient Dictionary for YOUR Curls.