Here at Curls Understood™ we appreciate a great brand and there's no denying how unique and polished The Doux and The Doux Salon & Blowdry Parlour brand is (just follow them on Instagram to see what we mean). Though the curly, natural hair industry has exploded in the last 5 years, there's still a demand for salons that provide a high quality experience as well as exceptional service. It's part of the reason why we created our visual Salon Directory. We reached out to Maya Smith to get the scoop on starting a salon business and product line.
For a little background, in 2008 Maya launched her first natural hair salon in Europe and the salon developed quite a cult following at a time when there weren't many European salons or brands catering to our curly hair needs…
The HoneyComb was one of the first salons in Germany catering to textured hair. What inspired you to open the HoneyComb?
When I came to Europe in 2008, most salons didn't seem interested in working with textured hair at all. The few places (called "afro shops" in Europe) that did cater to textured hair had very limited skill sets. If it wasn't being braided, weaved, or relaxed, there were no options for clients who wanted polished, professional looking results on their own hair. I opened The HoneyComb to address the growing need for professional care of textured hair beyond chemical treatments or extensions.
I'm sure our European curly sisters were so happy to have you there! Was servicing this neglected clientele the reason you started a product line?
When I opened my first salon, I offered several natural hair care brands for sale to my clients, but seldom used any of them professionally, because they didn't perform well enough to deliver salon-quality results.
Because my livelihood depends on the results that I deliver, I saw the need for professional-grade products, formulated based on research and expertise of people who actually do hair for a living. I originally developed a range of products exclusively for professional use in my salon. Soon, my clients were ignoring what was on the shelf, asking only for the products I used on them. It was then that I decided to brand The Doux™ and make it available to the consumer retail market.
The Doux isn't a natural hair salon. We just happen to be one of the few salons in the world whose education and skill set are well rounded enough to provide exceptional service to anyone and everyone who walks through our doors.
We absolutely love your branding! How did you come up with the concept?
Thank you! My intention is always to incorporate a bit of nostalgia and authenticity in everything that I produce. I am a lover of hip hop, jazz, street art, vintage fashion, and "happy" colors. I didn't necessarily ponder over a marketing scheme or visualize a concept for my brand. I just played around with the project until it felt like an authentic reflection of who I am as an artist. I'm happy. Clever. Peculiar. Excited. Fly. I think people discern those qualities when they encounter The Doux.
You moved back to the US after living and working in Europe. What was the impetus for the move?
As The Doux began to draw more attention abroad, The HoneyComb's increasing popularity, along with the launch of The Doux hair care range generated a lot of buzz in America. Suddenly, it was apparent that The Doux needed more room to grow, not only as a hair care brand, but as a fully developed salon concept.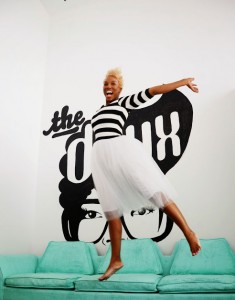 You now have a The Doux Salon & Blowdry Parlour in the US? What gave you the idea to expand the brand?
It is important to me to help elevate the hair care experience for women of color globally. Returning to the States was just a part of the natural progression of The Doux's development. After nearly seven years in Europe, I've had the privilege of observing the profound influence that American culture has on the way women of color see themselves. I wanted to be a more influential part of that dynamic.
The salon has such beautiful interiors! Did you design the space yourself?
I did. And thanks again! As with the branding concept, I didn't have a prescribed notion of what I wanted The Doux Salon to look like, I just knew how I wanted it to feel. I wanted to create a place, not only that clients would enjoy, but a place where my team and I would love to work. As a designer, my approach is always to fill a space with things that make me happy, and compliment my guests. There's no point in having a bunch of fancy furnishings if people are afraid to relax.
Your salon is based in Macon, Georgia. Nothing wrong with that, but we wondered why that location as opposed to, say, Atlanta?
Why not? Let's face it, Atlanta doesn't need another hair salon. When I was choosing where to plant our first US location, my first thought was to place it somewhere where there was a need. Downtown Macon seemed perfect, considering that hundreds of clients in middle Georgia were commuting north to Atlanta for an upscale salon experience. I've always wanted to serve an area that has a sense of history, community and coziness, but still maintains a bit of a downtown vibration. So here we are.
You cater to all hair types not just naturals, correct? What's your general philosophy around hair care?
I'm proud to say that The Doux Salon and its product range is culturally diverse. It's my philosophy that great hair is for everyone, and textured hair should never be viewed as the exception. Any establishment willing to call itself a "salon" should be able to service clients of all ethnicities. The Doux isn't a natural hair salon. We just happen to be one of the few salons in the world whose education and skill set are well rounded enough to provide exceptional service to anyone and everyone who walks through our doors. Our curly girls leave looking and feeling just as fly as our girls with naturally straight hair. That's what The Doux is all about.
Be sure to check out Maya's salon if you live in Georgia and follow her all over the internets! Details below…
The Doux Salon & Blowdry Parlour
617 Cherry Street
Macon GA 31201
(478) 254-3226
Salon Site: The Doux Salon & Blowdry Parlour
Product Site: The Doux
Instagram: @thedouxsalon
Twitter: @thedouxsalon
Facebook: thedouxsalon
INSIDE THE DOUX SALON & BLOWDRY PARLOUR
See more photos of Maya's salon and review your experience.