So here's my first official Income Report! For those of you who may not be familiar with what an income report is it's a transparent and itemized list of the monthly revenue that bloggers receive from their activity blogging and share with their readers. The goal is to motivate and inspire other would-be bloggers and vloggers. Whether you are thinking about blogging, already have a blog, or an established blogger, these monthly income reports serve as a resource for your journey moving forward.
I started Curls Understood 3 years ago as a creative outlet but since being laid off last November I decided to see if I could turn my side hustle into a full-time gig! I always focused on products as a main source of income (the My Curls Understood subscription box was pulling in $12K a month before it grew too big for me to manage with a full-time job!)
Now I'm focused on actually monetizing the blog itself throw advertising, partnerships and social marketing. So her;0e is where I'll chart my growth! Feel free to ask questions in the comment section.
I built this blog myself by installing a theme I bought from ThemeForest. It was a small learning curve but I'm glad I did it as I'm not dependent on anyone else to update my site.
If you are thinking about starting a blog, this tutorial will get your blog up and running today! I was able to blog and consult full time, last year. On average I made $12,000 in 6 months just from CurlsUnderstood.com (not including the money I made from my Subscription Box which I hope to relaunch later this year)! That's the best return of investment ever! What are you waiting for? Get started today!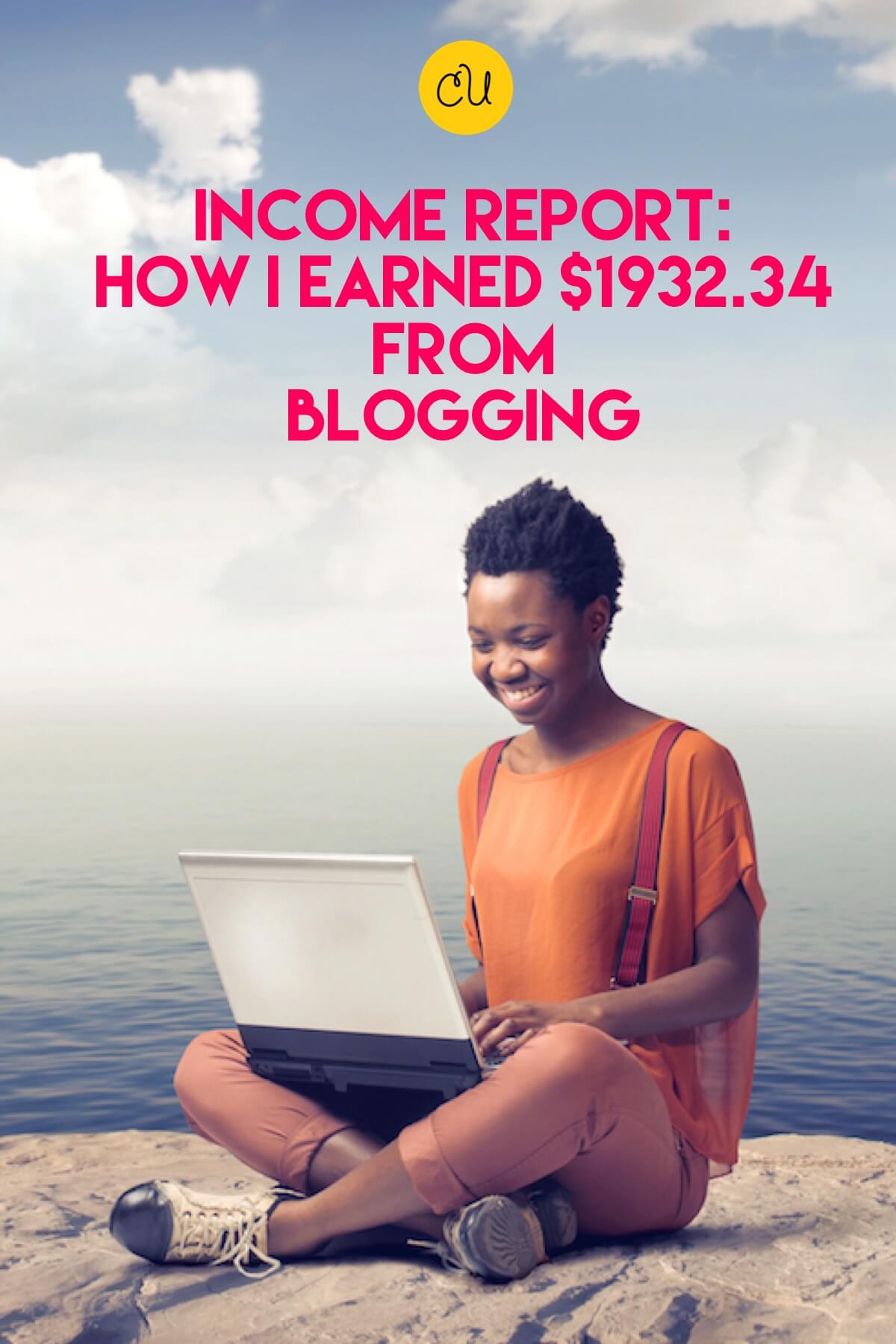 This is for the month of June 2017…
Here's the breakdown:
$203.65 Ad revenue (this is mainly from Google Ads and is down as I haven't posted/promoted many articles in June)
$115 Affiliates (Bluehost, ThemeForest and eBates)
$500 Partnerships/Sponsorships
$313.69 Products (eBooks and t-shirts/accessories)
$800 Freelancing
TOTAL: 1932.34
Affiliate marketing can be tough as it takes A LOT of people following your blog to get the small percentage needed to make actually make income. I try not to focus too much on how many people visit the blog though. I make strategic marketing efforts but they go beyond just numbers. I'm committed to obtaining a fully engaged audience not just the largest audience possible. That should be your goal too.
One strategy that has been so helpful to me throughout blogging has been using Pinterest to promote all the articles on this site. It's great for organically increasing traffic to the site. I will make a post about my Pinterest strategy in the near future but definitely get on Pinterest if you're not already!
In addition to blogging, I consult as a digital strategist for established companies and start-ups from all industries. I've worked as a legitimate digital content strategist and marketer for 12+ years so it's been relatively easy to obtain consulting projects.
I'm also in the process of developing my personal blog (CocoaUnderstood.com). I have been reluctant to put myself out there but I realize that I maybe missing opportunities to connect with my readers. I want all of you to know more about the person behind CurlsUnderstood.com!
Active and aspiring bloggers join my private mastermind group on Facebook for daily tips, articles and support from fellow bloggers/influencers!