Is natural hair healthier than relaxed hair? My answer to this question has always been a resounding "yes"! That is until I researched it recently. After some research, I decided that the answer to this question actually depends on how you personally define the term "healthier".
Health & Length Are Not Synonymous
A lot of people equate health and length, which is just not the right thing to do. For instance, there are many YouTube channels with women who have long beautiful relaxed hair like: ESSNTL, RachealAKUA, or SoFreshDyamond.
If you equate healthy and long then these women have healthy hair, but if you equate health with the condition of your strands of hair is it the same story?
We all know that relaxer's chemicals breaks down the bonds in your hair so that it can eliminate your hair's curl pattern, but does that make our hair unhealthy? Well, from what I've read on different sites the answer is "no, it doesn't". You can achieve relaxed hair that's ankle length if you desire, but is the altered state of your hair really healthy?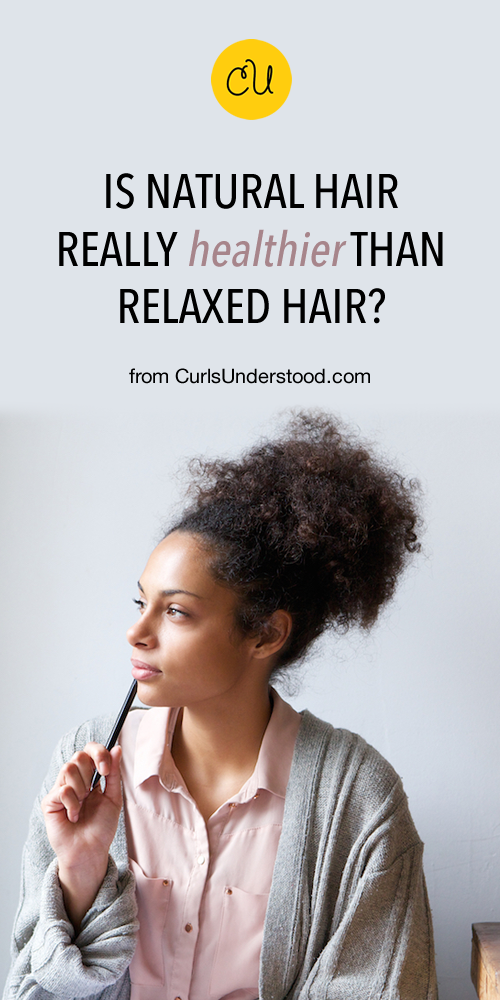 Whether You Relax Or Not a "Natural Hair Journey" is healthy for you
We can argue back and forth about the pros and cons of relaxed vs. natural hair, but personally I'll always believe that going natural is healthier for your overall health. I believe this because there is a whole slew of benefits that come wth going natural.
The first benefit to going natural is knowledge is truly understanding a part of you. I've truly enjoyed learning about my natural curl pattern and what makes it thrive from wash days to styling – it's all been an incredible journey.
The second reason I believe going natural is healthy for you is because BlackDoctor.org has an amazing article talking about the link to the chemicals in relaxers and Fibroids and early puberty in teen girls.
If you didn't know, African American women specifically, not all Black women, are nine times more likely to have fibroids, and since we are more likely to use hair relaxers, a correlation has been established. The research on this topic is not 100% conclusive, but this, and other health concerns, are something to think about for us who are relaxed and contemplating a natural journey.
What are you thoughts on the topic? If you relax your hair are you concerned at all about long term risks? Comment below.