So I had the amazing experience of visiting the Hairstory Studio to get my hair styled by their talented and innovative stylists! For the those of you not in the know, Hairstory is tucked away in the bustle of downtown NYC, and has been described as "The Warhol Factory of Hair," and is equal parts think-tank, photo studio, art space, and production house.
Hairstory also has its own unique product line. Tired of seeing hair product companies producing imagery saturated with retouching, hair-extensions, and showcasing altogether unrealistic beauty standards, they turned their focus onto real people with real hair – thus the beginning of Hair Stories. Each month, they welcome a handful of people from all walks of life into their studio for fresh cuts, color, and portraits. I was lucky to be one of them! Read my Hairstory in full here but below is a snippet…
What is your personal story on becoming natural, or were you always natural?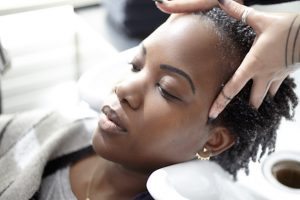 I was always natural. I have a younger sister and a brother, and with my mom having two girls, and taking care of her own hair, it was a lot. So we put our hair in braids, adding extensions to make it longer. But we never had chemical processing; every two months she would take the braids out and put them back in so they were fresh and neat. So when she said, "Okay you're old enough to start looking after your own hair," we didn't really know what to do.
So I have put relaxers in my hair, and color, but I always grew it out. 99% of the time my hair has been natural, but I didn't know how to properly take care of it. I didn't have a standard regimen. I was haphazardly doing whatever, and as a result my hair would break, and wouldn't get past a certain length. So I thought, "Let me go to the internet and see if there's any information out there on how I can stop this breakage, and make my hair fuller."
I thought I couldn't use products that a white person can use, but you can; you just have to learn to read the labels and pick the ones that work for you.
This was before YouTube or Facebook even existed, and there was this small but very dedicated group of black women on a specific forum teaching each other how to look after their hair. That's when my natural hair journey started, and I learned the language and the basic techniques. I thought I couldn't use products that a white person can use, but you can; you just have to learn to read the labels and pick the ones that work for you. So I started ten years ago on YouTube and kept building on it. I think you always have to be learning, but just knowing that I wasn't doing it alone was very comforting, and that's why I started my site.
Tell us about how you found us, and what your Hairstory experience was like.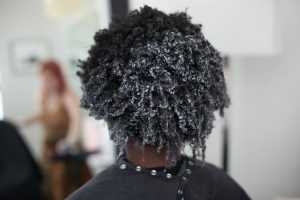 I had a friend, Ava Raiin, who did her Hairstory, and I saw her posting on social media. I think I even featured it on my site. That's how I started following you. And then I decided to reach out to you and see if Curls Understood and Hairstory could partner. Eli [Hairstory CEO] was in Washington, DC where I was based; we met for a little while, he sent me the products and I tried New Wash and I thought it was fantastic. If I had to explain it to other curly girls, it's co-wash 2.0, better than anything you've used because it leaves your hair super-soft and you can detangle as you're putting it in, so it's pretty perfect.
I use Hair Balm like a leave-in conditioner. For every style I put it in to keep me going for three or four days, then maybe I'll style it again for another three days. Hair Balm leaves my hair really, really soft, which is great, really great; it doesn't have that crunchy feeling. Curly girls really hate crunch.