Leave-in conditioners have an important role in your day-to-day hair care routine – they pave the way to the start of your hair moisturizing process and with Winter upon us they are even more important to our routines. Let's face it, leave-in conditioners are not to be confused with your regular conditioner, also known as a rinse-out conditioner. They are made completely differently. Water based leave in conditioners for natural hair are essential.
You will find that your leave-in conditioners are more watery and a lot lighter when applied to hair than your conventional conditioners, that are much thicker in consistency and weigh your hair down more.
Conditioners are made to rest in your hair only for a couple of minutes, before it is rinsed out! Usually after shampooing your hair. Your leave-in conditioners are water based, and are designed to remain in your hair to keep hair conditioned and moisturized.
Leave-in conditioners act as moisturizers and contain humectants which will draw moisture into your hair, keeping your hair moisturized for longer. That's why it is important to incorporate water based conditioners in your hair regimen. Without them you are prone to dryness.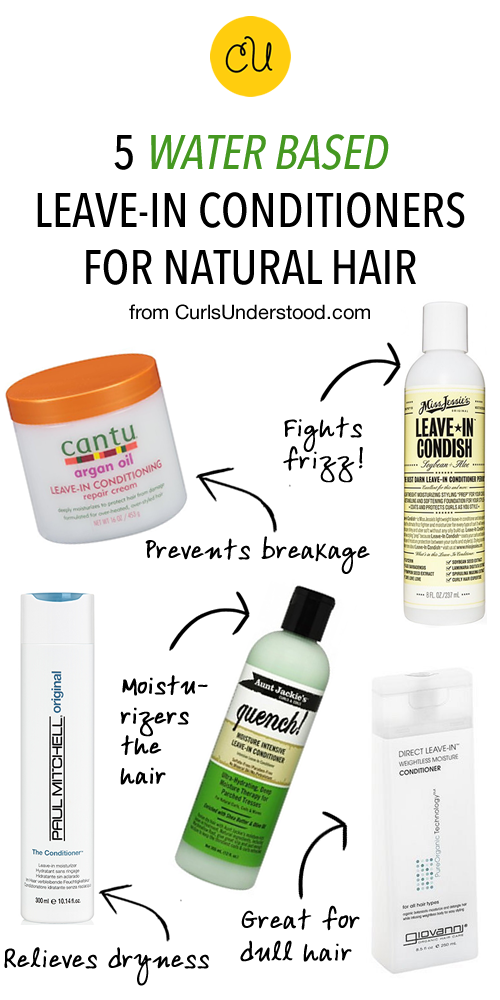 The benefits of using a leave-in conditioner will help to improve manageability, make hair appear smoother, and provide strength to your strands. A really good leave-in conditioner will give you great slip when styling your hair.
Leave-in conditioners will come either in a spray form, lotions and creams. Some are protein based and others moisture based. Depending on the ingredients it contains, it's good practice to have both protein and moisture based leave-in conditioners to help balance moisture and strength to your hair.
I have a list of suggested leave-in, water based conditioners that I love but simple trial and error will help you find your "holy grail".
WATER BASED LEAVE-IN CONDITIONERS
This is a multi-purpose used product made by Shea Moisture, Shea moisture's leave-in or rinse out conditioner de-tangles, moisturizes, repairs and restores lifeless, damaged hair, you have the best of both worlds here.
This leave- in helps to soften and detangle your hair, it nourishes and moisturizes your hair, it supports elasticity prevent hair breakage when your detangling, it helps to improve split ends. It has peppermint oil that stimulates your scalp and organic Shea butter that deeply moisturizes and conditioner your hair and scalp.
Giovanni Direct Leave-In Conditioner
This is my favorite, it is great for dull and dry hair
, it conditions your hair, leaving it smooth, silky and soft.
Cantu Leave-In Conditioner
Not only dies it contain shea butter and other natural oils that helps prevent breakage
, repair split ends, provides manageability and shine when applied to your hair. It helps to promote strong hair and helps to reduce frizz and hair does feel really hydrated and moisturized.
Aunt Jackie's Quench Moisture Intensive Leave-In Conditioner
This is my "Holy Grill", it eliminates dryness
, it is very light when applied to hair, very hydrating for parched tresses, it leaves hair soft and gives you slip for ease of detangling, your hair is left moisturized.
Paul Mitchell Leave-in Conditioner
This a water based conditioner that works for your hair and skin, in keeping both moisturized and conditioned. With Hawaiian Awapuhi it balances moisture
, it relieves dryness and enhances suppleness.
Miss Jessie's Leave In Condish
Make up this lightweight leave-in conditioner that detangles and fight frizz
like a champ. You will gain moisture protection and softness from using this leave-in.
I hope this article has helped you, I wonder which leave-in conditioner is your favorite?
If you're interested in learning more about the most popular synthetic and natural ingredients listed in hair products on the market today, sign up HERE to learn when our product ingredient dictionary becomes available.