Hair care can be a challenge when it comes time to vacation. Since you're only allotted limited space in your luggage, you'll surely consider travel size hair products for curly hair. You own an infinite number of too-large-to-carry-on-the-plane products and packing them into mini travel size bottles is just another thing to add on your pre-travel to-do list.
For a long time traveling while natural felt like a game of eenie-meenie-miney-moe, as I was forced to pick my 3 favorite products to pack. Before the success of natural hair products, many naturals were purchasing products that weren't the best for their hair texture, yet once the industry made way for more curl-friendly hair lines, we still lacked travel sizes that would last us for that four-day vacation.
We were reduced to hoarding packets upon packets of sample sizes, or simply purchasing new products after reaching the destination.
When I traveled away for college in 2011, I had only been a year into my natural journey, and wasn't well versed on how to pack for my hair type. The solution was my mother packing a Fed-ex box full of products I had at home, and overnighting it to me.
In the end when it was time for me to return home, I had given many of my products away to friends that were staying on campus, and had to restock my product collection. Fortunately, those times have begun to cease since many natural hair companies are jumping on the train to travel size, and not just for hair products.
No more reducing big bottles of your favorite Shea Moisture into those store-bought travel containers – this is one trend more natural companies should consider. Below is a list of 10 awesome brands that offer travel size kits and products.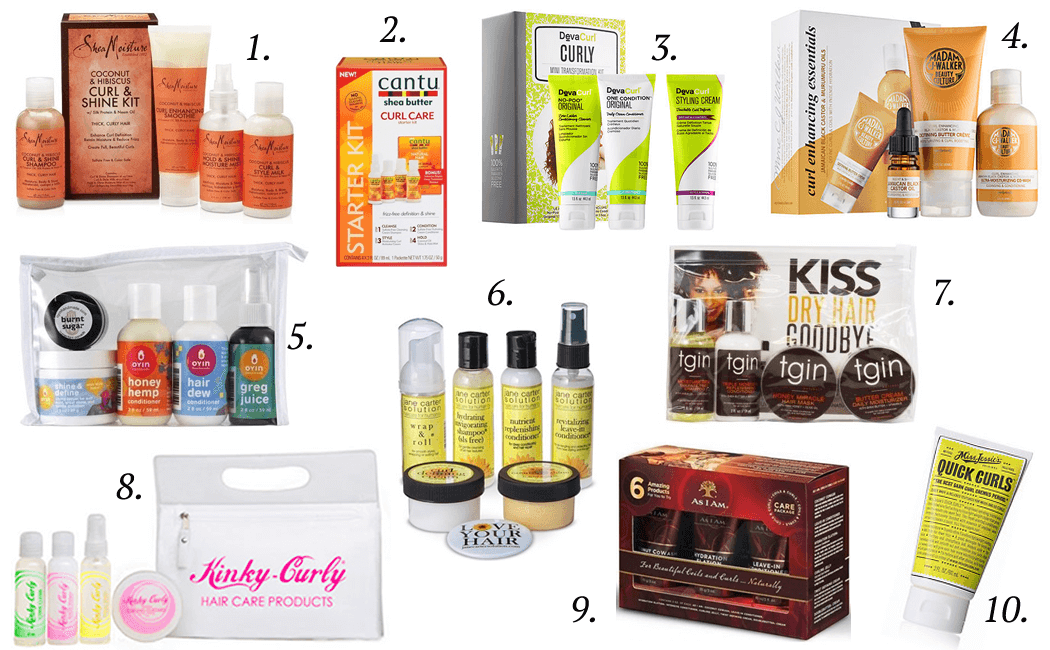 1.
SheaMoisture's Coconut & Hibiscus Curl & Shine Kit, 4 piece set, $19.99
Kit includes:
• Curl & Shine Shampoo – 4oz
• Curl Enhancing Smoothie – 4oz
• Curl & Style Milk – 4oz
• Hold & Shine Moisture Mist – 4oz
2.
Cantu Frizz Quit Curl 5pc Kit, 5 piece set, $9.99
Kit includes:
• Cleansing Cream Shampoo – 1.75oz
• Hydrating Cream Conditioner – 1.75oz
• Moisturizing Curl Activator Cream – 1.75oz
• Coconut oil Shine and Hold Mist – 1.75oz
• Intensive Repair Deep Treatment Masque – 1.75oz
3.
DevaCurl Curly Mini Transformation Kit, 3 piece set, $12
Kit includes:
• No-Poo Original – 1.5oz
• One Condition Original – 1.5oz
• Styling Cream – 1.5oz
4.
Madam C.J. Walker Beauty Culture Curl Enhancing Essentials Kit, 3 piece set, $28
Kit includes:
• Jamaican Black Castor & Murumuru Oils Ultra-moisturizing Co-wash 3oz
• Jamaican Black Castor & Murumuru Oils Defining Butter Crème 3oz
• Scent & Shine Jamaican Black Castor Oil 0.15oz
5.
Oyin Handmade 5 Piece Snack Set, 5 piece set, $23.99
Kit includes:
• Honey Hemp Conditioner – 2oz
• Greg Juice Leave-in Spray – 2oz
• Shine & Define coaxing serum – 2oz
• Hair Dew Creamy Leave-in – 2oz
• Mini Burnt Sugar Pomade – 1oz
6.
Jane Carter Travel Size Kit, 5 piece set, $19.99
Kit includes:
• Hydrating Invigorating Shampoo (Sulfate Free) – 2oz
• Nutrient Replenishing Conditioner – 2oz
• Revitalizing Leave-In Conditioner, Wrap & Roll – 2oz
• Nourish & Shine – 1oz
• Curl Defining Cream – 1oz
7.
TGIN Moist Collection Sample Pack, 4 piece set, $19.99
Kit includes:
• Sulfate Free Shampoo – 2oz
• Triple Moisture Rich Conditioner – 2oz
• Honey Miracle Hair Mask – 2oz
• Butter Cream Daily Moisturizer – 2oz
8.
Kinky-Curly Travel Kit, 4 piece set, $24
Kit includes:
• Come Clean Shampoo – 2oz
• Knot Today Conditioner – 2oz
• Spiral Spritz – 2oz
• Jar of Curling Custard – 3.4oz
9.
As I Am Coils & Curls Care Package, 6 piece set, $23.99
Kit includes:
• Coconut CoWash – 3oz
• Leave-In Conditioner – 3oz
• Hydration Elation Intensive Conditioner – 3oz
• Curling Jelly – 3oz
• Twist Defining Cream – 3oz
• DoubleButter Cream – 3oz
10.
Miss Jessie's Quick Curls (travel size) – 2oz, $8.99
What are some of your favorite products to travel with? Do you buy smaller sizes or do you pour larger products you own into smaller travel bottles? Leave your tips below.
A cost-effective way to buy products is by signing up for ebates.com. It takes 30 seconds, is free and you get paid to shop! Yep, you read that right. Sign up via this affiliate link and automatically receive $10 in your account then receive cash back every time you purchase something through the ebates.com site.
You can even search for a specific brand name. Bottom line is every purchase you make via the site, hair product or otherwise, you'll get cash back (not just a discount… cash!!) So now you can use the money you earn over time to try new products or splurge on something else you deserve.