I'm proud to say I've been naturally curly since May 2012. As many know, the decision to transition to naturally curly hair is a personal journey that is far from easy to make. With the encouragement of my best friend and my partner, I found the courage to "go natural." Although this decision was a big step, it was only the beginning. During the transitioning process, I slowly learned everything I originally knew about my hair was useless. I tossed out every product I ever used on my relaxed hair and after severe heat damage; I also broke up with my Dominican hair stylist. I never felt more lost.
THE APPOINTMENT THAT CHANGED MY LIFE FOREVER!
My best friend introduced me to Hair Rules Salon in New York City. I was filled with worry during my first appointment. I worried for a plethora of reasons, including: giving up my hair length and I was afraid of what the stylist may say about my poorly maintained mane. After the heat damage, I knew the 2 years I invested in growing out my hair while transitioning were non-existent. Also, as an afro-Latina (Dominican-American), relaxing my hair felt like a necessity to fulfill an entrenched false notion of beauty.
Finally, I met Monique. Monique is a Senior Hair Stylist at Hair Rules Salon. Monique provided me with a consultation and educated me on the importance of having a solid natural hair regimen for healthy naturally curly hair. Monique's knowledge gave me the confidence and comfort I needed to cut off all of the damaged hair and finally set my curls free.
I continue to follow this regimen today. She was honest about how much I needed to cut off, but also respected my desire for length.
MEET MONIQUE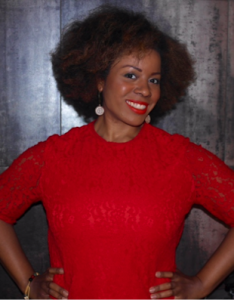 Monique has been styling natural hair for approximately 10 years. She began her career at Miss Jessie's Salon in New York City, where she was stylist for 4 years. Following this experience, Monique also styled at Louis Licari Salon in New York City. From Louis Licari Salon, Monique moved on to styling hair at Hair Rules Salon. Monique has been at Hair Rules Salon for approximately 5 years. Monique tells me the best part about her job is the unique opportunity to help her clients embark on a new journey of self/hair discovery. Also, equipping her clients with the knowledge to maintain healthy naturally curly hair.
NEXT BOLD MOVE… COLOR!
After maintaining the recommended hair regimen for a few months, I decided to go back to Hair Rules Salon for color! This is when I met with Aimee, who is the Head Colorist. At the time, my hair was black and I wanted a light brown color instead. I was nervous about changing my hair color since it involved introducing chemicals to my curls. The last thing I wanted to do was to change the integrity of my curls. Aimee provided me her professional opinion and advised me that the key to protecting my hair and reaching the color I wanted was to do it gradually. She was completely right. I gradually went from a black hair color to a brown that was closer to my natural hair color. I also added highlights.
MORE ABOUT AIMEE
Aimee has been a colorist for about 9 years. She started her career as a colorist in a small salon. Soon after, Aimee began to work at Louis Licari Salon. Aimee appreciated the strong training she received during her 4 years there. Afterwards, Aimee continued her career at Hair Rules Salon as Head Colorist, where she has been coloring naturally curly hair for 4 years. Aimee says the best part about her job is educating clients about their hair and helping her clients achieve a different style through color.
FAST FORWARD
In May 2015, I will be naturally curly for 3 years. The advice I received from Monique and Aimee has been invaluable in my journey. We all surf Youtube for tips and advice but nothing compares to the honest advice of professionals. Thanks to Monique and Aimee, I am fully armed with the tips and hair regimen to have another beautiful natural hair year. Look out for the next post where I'll discuss all of Monique and Aimee's top tips, hair products, protective styles and hair regimen suggestions.
A TREAT FOR YOU!
Mention this feature and receive 10% off your first visit for styling and/or coloring services. This promotion is limited to appointments for services provided by Monique and/or Aimee. But hurry, this promotion is available for a limited time.
MY HAIR NOW