Edge control… A staple in every natural's product collection. It is important to have a couple of these on hand at all times, because fleeky edges are a must when you're rocking certain curly girl hairstyles, such as a high puff, a bun, a curly ponytail, or any style where your hair needs to be slick, defined, and flat on the edges and on the top of your head.
However, all edge controls are not created equally! Some of them are much more thick and heavy in density for coarse curlies, while others are lighter and less sticky for curlies with thinner or more fine tresses. Check out our recommendations for 4c Kinky hair.
When it comes to type 3 Curly hair, I have found 5 edge controls that will work great with less coarse, finer, springier hair. The consistency won't weigh the hair down as much, as a type 3 hair curly girl doesn't need a super heavy edge control. Here are 5 lighter versions of this curly girl must have, that will have your baby hairs laid but not leave them sticky, greasy, or stiff in the process.
1.
Creme of Nature: Perfect Edges
This edge control is infused with Argan Oil
and is very lightweight. It also provides a lot of shine. It provides a good hold, without producing a lot of buildup. The price point is great, only costing around $6- $7. You can find this product at Wal-Mart, Walgreens, Sally Beauty, amongst other places.
2.
CURLS: Blueberry BLISS Control Paste
This lightweight edge control paste
is formulated with blueberry extract, Argan Oil, and other yummy ingredients that work together to slick your edges down and provide a nice, healthy sheen also. It smells amazing and a little goes a long way. It costs about $8 and you can find it at your local Wal-Mart, Target, or Sally Beauty store.
3.
Lotta Body Control Me Edge Gel
The Lotta Body Edge Gel, 2.25 Ounce
is everything! It has coconut and Shea oils in it, so it gives your edges the shininess and the sleekness that every curly girl is looking for in a product like this. It also comes in a mini version that looks like a lipgloss tube, which is perfect for slaying edges on the go. It smells very nice and the price is on point! You can snag this edge control for only around $4. Check your local beauty supply for this product, and Lotta Body is also sold in Wal-Mart, Sally Beauty, Fred's, and suprisingly, Dollar General!
4.
The Mane Choice: Laid Back Effortlessly Growth Stimulating Edge Control
This is a very gentle edge control that not only is lightweight enough for softer curls, but it is also lightweight enough for daily use. It also is packed with growth stimulating ingredients, so if you have thinning edges that you want to grow thicker and healthier, this product is a great option for you. It is a bit on the pricier side, but from experience with The Mane Choice products, they are very high quality and work quite well. You can get it for about $10- $12 at Wal-Mart, Target, or Sally Beauty.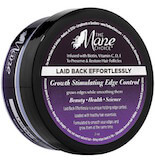 5.
EcoStyler: Olive Oil Gel
Never underestimate the power of a good ol' traditional hair gel to slay your baby hairs! In my experience, the infamous EcoStyler Olive Oil Gel
has often worked better than any edge control ever could. While I do not have type 3 hair, I watch a lot of YouTube natural hair vloggers who do, and many of them use this gel to get their baby hairs to lay down.
This product will not leave your edges flaky or cause excessive buildup, and it provides a lot of control as far as getting them to lay exactly how you want them, whereas a lot of other edge controls stiffen the hairs so much that it is hard to get those perfect little swoops and loops. You can find EcoStyler gel at Wal-Mart, Walgreens, Sally Beauty, or your local beauty supply for anywhere between $3-$6 depending on how big of a jar you want!
If you are a Type 3 Curly in need an edge control with a lighter hold, look no further than these products mentioned above. From the ingredients, to the smells, to the shine and hold they provide, you will definitely find a favorite among those mentioned. Happy Baby Hair Slaying!