My daughter inspired me to go natural. It's a beautiful story that you may hear eventually, but that's not this story. This story is about a mom who can't remember a time when her hair wasn't relaxed, except for one extremely unfortunate jheri curl incident. I plan to share how I learned children's natural hair care – especially considering my daughter's mixed hair type.
When my daughter Safah was born, she had stick straight hair. It was jet black and looked just like her father's does now, very glossy Pakistani hair. In his culture it is dictated that very soon after children are born, their hair should be shaved off, because it is not clean. Not everyone prescribes to this rule, but we did for her at the time. So we shaved all of that simplicity off, fully understanding that more than likely we would never see it again.
I should back up and explain that when I was a kid, I always wanted to have dolls with curly hair. Full Diana Ross or Chaka Khan coils that became little toys for the wind to play with on a sunny summer day.
I would spend hours trying to curl my Barbie's hair to achieve those curls, and I always thought it was so smart to have the ability to go back and forth between two fully functional hairstyles with minimum muss and fuss.
As my daughter's hair grew back I could tell that she had some curl to her hair, but I couldn't tell her curl pattern until she was almost 18 months old. Once I saw her 3b curls, my first thought was, "Yes, I finally have a living Barbie doll." My second thought was, "Oh crap, what am I supposed to do with it now?"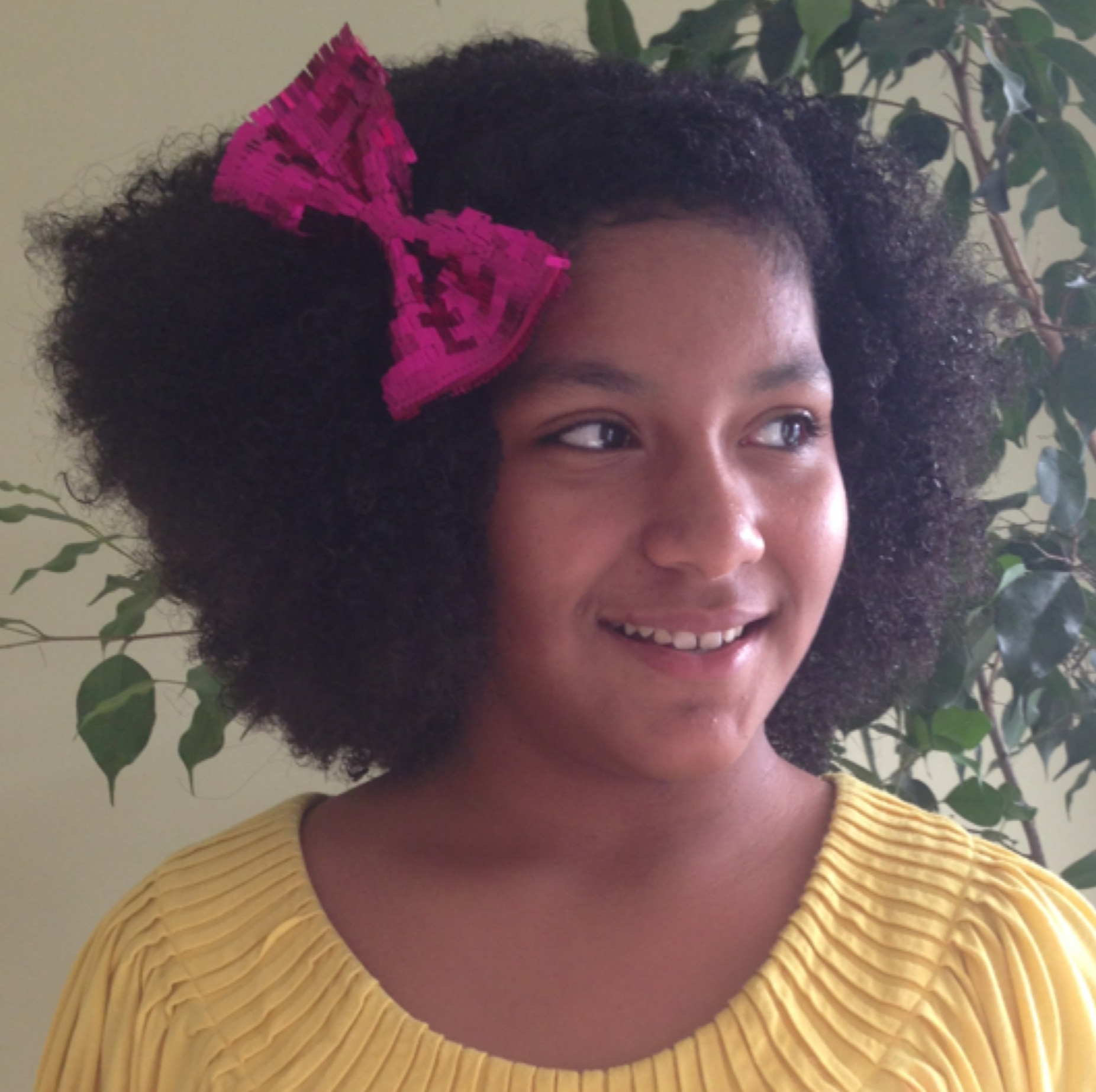 When Safah was younger, her hair was a little easier to manage. Two cute little curly puffs on the top of her head and we were done. But the situation quickly became foreign to me, much like trying to learn a new language with no Rosetta Stone. As her hair grew down her back, I learned that the smallest thing could make her hair snarl. Rolling on the floor playing with her dolls…snarls. Sleeping…snarls. Even my sweet friend the wind wreaked havoc on her curls. In addition, Safah's hair is thick, really thick. When straightened, her ponytail measures almost 2 inches in diameter. I am pretty sure there are hairs on her head that have never seen the light of day.
Trial and error. Those are the steps that I took while Safah was in Elementary school. Unfortunately there were more errors in the beginning that I would like to admit. I should confess to you now that I am inherently lazy when it comes to hair care. As a child and even until 2 years ago, I really didn't have to do much more to my hair than get a relaxer and a deep conditioner and wrap my hair. I even went through a point where I would just go to my salon every two weeks and let them tackle my hair. But in my defense, spending 2-4 hours on my daughter's hair every time I washed it was wearing me out and the prices salons charged me, before natural hair care was more established was painful.
I tried giving her a texturizer and keeping it straightened for long periods of time. I tried drowning her hair with heavy creams. I have coaxed her out of ponytails at times, and I tugged and pulled this tender-headed-child in all directions trying to understand her hair. And along the way, we learned some lessons. Some from my own aha! moments during my natural hair journey with 3c, 4a and 4b coils and curls, and some that are based on how her hair reacts.
Her hair works best when little to no heat is applied. Heat dries and damages her hair very badly.
No texturizers. At first, the treatment seems to be a blessing, but her hair became dry and managing the new and old growth became difficult. Eventually, I had to cut off all of the texturizer to stop her hair from breaking off. She lost seven or more inches of hair, which is the difference between her hair being almost to her waist and being around her shoulders.
Moisture is her friend. We have spritz bottles of water and jojoba oil in every bathroom in the house, just in case we need a moisture fix.
Brushes are not her friend, though they do help get some wisps down in the front. Safah has learned that she must comb her hair, all the way to the scalp. Just combing across the top and putting it into a ponytail is not an option. This may seem like a no brainer, but she is 11, and taking the easier path is what kids do sometimes.
Every two days, I have to detangle her hair. This rule is non-negotiable, and trust me, she does try. But I have learned that being proactive with natural hair is a necessity. To achieve healthy hair, you have to put in the time. Goodbye hair laziness.
Have safety hairstyles. There is nothing wrong with a ponytail. Since Safah has so much hair, there are days that her hair looks like it is trying to eat her head. On those days, side twists and ponytails are just fine.
Banding is a great stretching method. Unfortunately not for her. Banding gives my hair great stretch and even some big wave definition, but it makes her hair look frizzy.
Co-washing is a great thing. Every week, I have tasked her with co-washing and combing out her own hair. There are times we have to do another quick rise, but I am always pleased that she combs through her own hair well when it is completely wet.
Safah's hair works best with the following homemade recipe. After sectioning hair into inch pieces, spritz with water, spritz with leave in conditioner, add a quarter size dollop of jojoba oil, add a pea- size amount of Shea butter – especially to the ends, and then leave the curl alone or put it into a two-strand twist to dry.
Low manipulation. Since Safah has so much hair and such defined curls, low manipulation, combing or touching is the key to keeping her hair from looking frizzy between style days. Each morning before school, we spritz lightly with our water and jojoba oil mix and then she adds whatever decoration she wants to her hair. Right now it's glittery or sequined bows… so much glitter.