Social media has the ability to bring together people with common interests from different walks of life. Through that one common interest you meet people who are amazingly inspirational and you simply want to tip your hat to them. This was the case when I became friends with @Invaderhim on Instagram. This gentleman is the single father of a beautifully natural 7 year old girl named Amelia. He took a sincere interest in taking care of his daughter's naturally curly hair.
Through trial and error, and being an avid YouTube watcher this man can do anything from a Curlformers set to a beautiful wash n go. He has even mixed together his own spray bottle concoction to keep young Amelia's hair thriving. I instantly wanted to know more about this guy and his love for caring for his daughter's natural hair. Meet Darren and Amelia…
Darren, thank you for sitting down to discuss the way you care for your daughter's natural hair. How old is your daughter? It's not often that we see fathers who know how to style their daughter's hair. What inspired you to learn?
Thank you for even considering me for an interview. I am truly honored. My daughter is currently 7 years old. And I'm aware most fathers don't really look too much into doing their daughters hair because its deemed to be a "mom" thing. But, just around the time my daughter turned 2 her hair texture began to change. Her mother is Puerto Rican/Honduran and has straight hair. Needless to say she had no idea how to take care of or manage my daughter's hair which began to become thick and curly. At that point I began to do research and try out products in order to keep her hair healthy.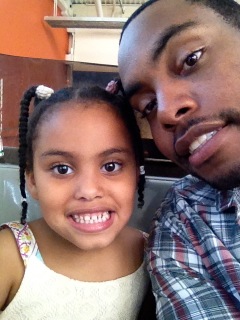 When I came across your Instagram account I instantly became obsessed with the fact that you knew how to use CURLFORMERS! I was thoroughly impressed. Did you experience any issues while putting in the rollers? What inspired you to try curlformers and what were your thoughts on the results?
I actually had pretty good success the first time putting in the Curlformers and it wasn't a hard task if you section the hair properly. The process itself takes a shorter amount of time than doing bantu knots or twists. What inspired me was a video on YouTube by Naptural85. Once I saw her tutorial and results, I instantly searched on Amazon for Curlformers. They worked out pretty well, however, I don't use them often as they are somewhat hard to sleep on according to my daughter!
What are some of the things you struggle with while caring for Amelia's hair?
Something I struggle with is keeping her hair completely hydrated throughout the day. But the biggest thing I struggle with is the frizz. There aren't many products that can tame her hair. I'm learning that sections are key as far as applying product. It's an ongoing battle but I am getting the hang of it.
Many little girls prefer their hair straight and often give their parents a hard time. Have you experienced this? And if so, how do you handle this situation? This will be extremely helpful to other parents.
Yes, my daughter loves her hair straightened which I've only done twice. The reason she loves it is because it's much longer and flowing and she loves playing in her hair when it's straightened. But I don't do it often at all, reason being the last time it was straightened by a salon, they burned straight a good amount of her ends and it took me a long time of weeding them out and snipping the burnt ends. I take pride in my daughter's hair because I work so much with it and work hard at trying to keep it healthy. I don't want to work backwards so I limited the amount of times it's straightened and are researching salons and techniques in order to straighten it without damaging it.
When she asks about getting her hair straightened I keep it honest. I tell her it's not healthy for her type of hair all the time and that I will have to cut her burned ends off if it gets damaged resulting in her having shorter hair. Considering she loves her hair, she opted not to ask about it anymore. Also I tell her to love her hair because her hair is special and not everyone can have hair quite like hers. So she asks me to "let her hair free" (curly) most times.
Every time I finish my daughter's hair I make sure to tell her how pretty her hair is and how beautiful it looks. She is a reflection of me so I have to keep her and her hair looking good or else I'm not fully committing to my role as a parent.
What is one of your favorite hair styles to do on your daughter?
I'm not that good at "styles" I must admit. I don't quite have that touch yet so most the time with her hair it's wash n go's, twist outs or occasionally Curlformers. But I'm trying to get into protective styles more often now that the winter is rolling around.
I understand that you watch Youtube videos to get ideas on how to manage your daughter's hair. Who are some of your favorite Youtube/Instagram personalities and why?
I've watched more videos of Naptural85 than anyone else because her hair tutorials are detailed and she uses mostly natural products that are DIY. I don't use too many products on my daughter's hair. I try to keep it as natural as possible if I can.
How would you describe your daughter's hair?
My daughter's hair is extremely curly but also very thick as well. It is sensitive to a lot of things and can dry out fairly quickly if you don't work with it properly. But when it's hydrated it's nice, bouncy and soft.
Have you developed a regimen for your daughter? If so, could you share your regimen with us?
I haven't formed a dedicated regimen as of yet but I only shampoo her hair once every two weeks. It's co-washed with a moisture rich conditioner most of the time. And I try to deep condition it at least once per month. However, I'm still figuring out what works with her hair. When I do I'll form a dedicated regimen for her hair.
I honestly have to tip my hat to you for learning how to care for natural hair. What are some of the things you tell your daughter in order to help her embrace her natural hair?

Every time I finish my daughter's hair I make sure to tell her how pretty her hair is and how beautiful it looks. And she loves it when her hair is looking great. She is a reflection of me so I have to keep her and her hair looking good or else I'm not fully committing to my role as a parent.
Any future plans to do any YouTube tutorials?
I doubt I'll make any YouTube videos or anything at least at this time. Considering I'm still putting together bits and pieces from other YouTube videos in order to find out what works on her hair. Who knows, maybe one day when she is old enough she will be part of the YouTube curly girl group making her own videos based on what she has learned from when I did her hair. My main goal is learning what works so that one day when she is ready, I can inform her on what works based on all the years of doing her hair. That way she is properly informed and doesn't have to figure it out along the way in the future.
See more of Darren and Amelia on Instagram: @Invaderhim