The chilly temps may soon be behind us but there are certain things in our regimen that we shouldn't change up as the weather changes, like deep conditioning. Essential in both Fall/Winter and Spring/Summer – deep conditioning keeps the hair moisturized and builds every strands' strength. So let's chat a little about deep conditioning and the importance of deep conditioning hair!
Why Is Deep Conditioning Important
It helps prevent damage from heat and styling tools as well as help to replace moisture and vital proteins into the hair shaft. Deep Conditioning is also very important for those with damaged, brittle, or color treated hair. Most importantly, when you deep condition your hair you help restore luster, shine and strength to your hair.
So, the first step is to determine which type of deep conditioning to begin with. Moisture or protein deep conditioners, both are very beneficial.
Moisturizing Deep Conditioners
The second type of deep conditioners are moisturizing deep conditioners. These conditioners contain humectants that attract moisture and are absorbed into the hair. I have always wondered to myself the difference between instant and deep moisturizing conditioners.
After consulting with many hair stylists, I was informed that deep conditioners contain a quaternary ammonium component included in the chemical formulation of moisturizers so they are able to attach themselves to the hair fiber and provide longer lasting moisture. When using any deep conditioner, I leave it in for 15-30 minutes and use heat for the best results.
Curls Understood recommends Every Strand's Shea & Coconut Oil Deep Moisture Hair Masque. It absorbs quickly into the hair, adds strength, and manageability to damaged hair. You can buy their packette size for just $2.19 on SallyBeauty.com.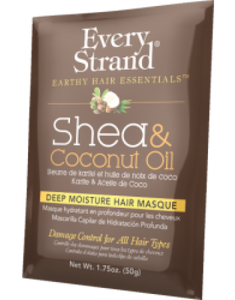 Protein Deep Conditioners
I call the protein deep conditioners my heavy hitters. They are used to help increase the diameter of the hair with a coating action. Protein deep conditioners also called treatments, contain proteins that attach to your hair in the areas that are weak to help strengthen the hair. The protein hardens the cuticle layer of your hair, and also puts a protective barrier around the hair.
It helps to strengthen the hair and to also add body. If your hair is color treated, damaged, or showing signs of weakness you should use a protein deep conditioner. Protein conditioners also help increase elasticity and approve the overall appearance of your hair. You should use a protein deep conditioner once a month or every 2 months depending upon the condition of your hair.
Some protein deep conditioners will make your hair very hard and will require you to follow-up with a moisturizer. Make sure to read all instructions when using protein deep conditioners! Learned that one the hard way (literally). Also note that you may be protein sensitive if you notice your hair weaker after you have done a treatment. It is rare, but some people are protein sensitive. My favorite protein deep conditioners is the Palmers coconut oil deep conditioning protein pack (found at your local BSS).
Why I Deep Condition
I have noticed that when I started deep conditioning on a regular basis I noticed the less roughness with my hair, and also my hair was noticeably stronger, manageable and shiny. This is why it is important to deep condition once a week every week (with a moisturizing deep conditioner, Every 2 months with Protein Deep Conditioners).
How Often Do You Deep Condition?