Taymer Mason is a Barbadian born author, food scientist, chef, hair and skin product developer and ultimate entrepreneur. She started to cook as a challenge from an aunt who taunted her saying she would never learn to cook. She not only learned to cook but her first job out of University of the West Indies was as New Product Development Chef and Food Scientist in one of Barbados' leading manufacturing companies. Transform your hair today the natural way with natural hair recipes for natural hair that showcase the best ingredients in natural hair care.
Kink Alchemy invites you to a world of 'clean' natural hair products without all of the additives.
Here we discuss her new book Kink Alchemy: Guide to Handcrafted Natural Hair Products.
What was your inspiration for writing this amazing recipe book?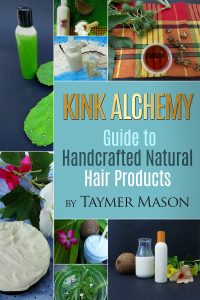 I'm a born artist even though I'm a trained scientist. Mixing and concocting recipes has always been with me from childhood. I developed a line of products back in 2013 and will launch this 'clean' natural hair and skin line come 2017 but, I always found myself going to the kitchen every time I wanted to wash or treat my hair.
It is so easy to make a conditioner that works just as good as a store bought version and Kink Alchemy basically gives women an option to make and control what is in their products. Even though I provide the basic formulas to follow you can customize your oils, your fragrance and even your color using natural additives.
Kink Alchemy also educates women on product formulation showing them what is used to bind, what is used to stop the separation from of oil and water and how to thicken a formulation. Many people have mixed up products at home and sometimes it can be a runny mess or the oil floats on top. After reading the book you ='ll have a sense of clarity when it comes to product formulation.
Do you think women with natural hair are beginning to value natural homemade products more?
We live in a fast paced society and convenience is king these days. We now turn to food delivery services because time isn't there anymore. People are also becoming very conscious of what they eat and what they put on their skin by extension. Reading ingredients on everything is the norm. Making homemade products gives women another option.
There are some companies that do an excellent job making sure they put the natural products at the forefront but again it goes back to reading the ingredients. I think society on a whole values anything handcrafted because the quality in these products are usually high. Mixing up some conditioner in this book can take you about six minutes. It is an exciting activity for all and women can even include their children as everything is nontoxic.
Where did you get all the recipes from?
All of the recipes came from my head. I have been reading labels from the age of fourteen and I have a vast knowledge in botany and chemistry so basically creating hair recipes come like creating food recipes but with added knowledge of what works together. There is one recipe in the book called Dominican Hair Secret. It is a recipe donated from a friend in Santo Domingo. She gave me the recipe in its raw form and it was extremely runny so I upgraded it so that it had the look at feel as a commercial product. It stays on the hair when it's applied.
Do you have a background in beauty and nutrition?
I'm a microbiologist and food scientist by training and I'm also a vegan chef and cookbook author, yes I wear many hats! So, no, I am not a hair stylist but I am a vegan scientist who loves her natural hair and who has spent the past eight years conducting extensive research on tropical plants and how to use them for hair and skin care.
Which recipes should we pay attention too now that summer is coming?
This book was written in the Caribbean where we have forever summers but I would suggest the Lemongrass Twist Mist which is a beautiful and light mist that screams late spring and summer. It is good for twists, braids and locs and for adding moisture to loose hair. It is great for combing out bed head as well.
All of the oils in the chapter are essential for sealing in moisture during these warm times and there is an oil called sun oil that can be left outside in the sunlight to cure.
There is a hair sun screen balm that I use a lot here in the Caribbean that contains roucou (annatto) which is a natural SPF.
The coconut styling and conditioning hair milk is a light conditioner that can be used for styling, it is less heavy than the hair butter recipes. I like this recipe because you can customize the fragrance for the season i.e. peppermint and cloves for winter months and some citrus or floral essential oils for summer months.
Do you have a publisher or are you self-published? Why did you choose that route?
I self-published for Kink Alchemy out of curiosity. I currently have two book deals for my cookbooks. I always wanted to write a hair recipe book and I held back. After I finished up my manuscript for the second expanded colored edition of Caribbean Vegan (out this Fall) I had some extra time and I decided to write Kink Alchemy. I decided to self-publish this time around for 2 reasons…
When you have a book deal you do not have control of everything and I wanted to have that for this book. I also wanted to do it for the experience. The entire book creating process and getting it out to the public took me two months. It was hectic but I had to get the recipes and concepts out of my system quickly before I went back to dealing with my publishers with my other cookbook.
What's next for you? Any more recipe books?
Yes, Caribbean Vegan which was my first book released back in 2010 got a face lift and the newer version is going to be full color photos. I also added an extra 100 recipes to the 125 it already had. I am super excited about this book! I also have a small smoothie book that I self-published along with Kink Alchemy called Caribbean Smoothies that I will release in July 2016.
I have three other cookbook projects and I am taking them year by year because a cookbook takes me about 3 months to conceptualize and write and it is very draining. Kink Alchemy will have its follow-up soon but I will seek a book deal for that as it would be a bigger undertaking.
You can purchase all of Taymer's cookbooks on Amazon!
Sample Recipes
Site: www.taymermason.com
Instagram: @therealcaribbeanvegan or @kinkalchemy
Facebook: Kink Alchemy
Twitter: @veganinthesun