Let us get into this, today I want to review the Organix Brazilian Keratin Therapy Shampoo
and highlight all the reasons why you should include this in your natural hair routine if you haven't tested and tried this one before.
ABOUT ORGANIX
Organix is a range that prides themselves on originality their concept idea is based on beauty, pure and simple. Beauty is approached in their own way, and this is clear from the design right through to the sheer simplicity and elegance of their products.
Organix has such a vast range of products catered for everyone, and this is clearly displayed on their website: https://www.ogxbeauty.com/, not only do they cater for hair they have a skincare range as well.
Their ingredients are sourced from around the world and of course, the product I will be reviewing comes from Brazil. Keratin is the main ingredient produced in this product and as you may know, keratin proteins is a natural protein that is naturally found in the flat cells of your hair and the benefit of Keratin is to keep your hair strong, provide elasticity and make your hair healthy.
The four exotic ingredients in the Brazilian keratin therapy range is coconut oils, keratin proteins, avocado oil and cocoa butter, it is these four ingredients that will help bring your hair to life.
BENEFITS OF OILS
Coconut Oil – Stimulates hair growth, it adds lustre, shine and softness to the hair, to prevents breakage and split ends and helps to contribute to hair growth.
Keratin Protein – helps to keep hair strong, provide elasticity and make your hair healthy
Avocado Oil – Provides moisture for dry, brittle and damaged hair, it contains nutrients such as vitamins A, B, D, E, protein, amino acids, iron, copper, magnesium and folic acid
Cocoa Butter – This will help with hair growth, help provide healthy hair, provide softness and make your hair shiny due to the healing and softening properties.
REVIEW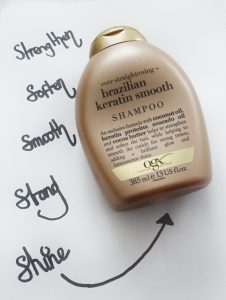 I always say to people that ask me about shampoos and which one is the best one to buy, well, there really isn't an answer for that, but what advice I like to give to people is when your looking for a really good shampoo, get one that lathers up really well, a shampoo that caters to the needs of your hair, and it should leave your hair moisturised, soft and manageable and clean.
While this one lathers up well in comparison to the Argan Oil of Morocco Shampoo I would say that the Argan Oil lathers up better, however, it did leave my hair super soft, moisturised, it made my hair manageable and left my hair clean.
I never tried this brand before, I was a die-hard Creme of Nature fan and still buy this for my household to use. My sister and mother were the ones that told me about this brand and was raving about how great this product was. I started out with the Organix Argan Morocco Oil Shampoo which is awesome, but that can be discussed in another review, however, my argan shampoo had run out and when I returned back to Sainsbury's to buy again, the shelve was clean. I tried the Brazillian shampoo and I wasn' disappointed.
The colour of the shampoo is a chocolate colour and the consistency is quite thick and creamy, I only ever need to use a small amount to cleanse my hair, which means that it lathers well enough to clean mine hair. The smell is of coconut and vanilla and it is a nice subtle smell that is not overwhelming. I enjoyed every moment of using this shampoo, once it was applied to my hair, my hair felt, super soft, moisturised and light and shiny my curls were bouncy.
INGREDIENTS
Aqua (Water), Disodium Laureth Sulfosuccinate, Sodium C14-16 Olefin Sulfonate, Cocamidopropyl Betaine, Cocamidopropyl Hydroxysultaine, Dimethicone Copolyol, Cocamide DEA, Glycol Distearate, Hydrolyzed Keratin (Protein), Theobroma Cacao (Cocoa Butter) Extract, Parfum, Cocos Nucifera (Coconut) Oil, Persea Gratissima (Avocado) Oil, Aloe Barbadensis (Aloe) Leaf Extract, Panthenol, Polyquaternium 11, Cetyl Alcohol, Guar Hydroxypropyltrimonium Chloride, PEG-23M, DMDM Hydantoin CI 42090 (Blue 1), CI 16035 (Red 40), CI 19140 (Yellow 5), Coumarin.
PACKAGING
The bottle is an oval shape in a nice golden brown plastic bottle with a flip top cap that is in gold, it displaces sheer elegance with a simplistic text and information clearly displayed as to what the key ingredients are (in bold) that is used in the product.
The bottle comes in a 385 ml and at the time I got this on offer at Sainsbury's for £5.00 but priced at 6 or 7 pounds now.
MY EXPERIENCE
I do love the shampoo it works very well in providing moisture, softness, shine and helped make my hair more manageable when detangling, it works well in conjunction with the Argan Oil Morocco Conditioner in providing my hair with that added moisture. It lathers up well and it does the job in cleansing my scalp and keeping my hair shiny and soft to touch.
I would recommend this product and will be stocking up on this product again, it works well for those that has dry, brittle hair and in need of moisture, elasticity and strength back in their strands. As small the bottle is, it will last you a long time as you do not need a lot to cleanse your hair.
WHAT IT SAYS ON THE BOTTLE
This formula is packed with so much good-for-your-hair goodness. Infused with coconut oil, keratin proteins, avocado oil and cocoa butter, this shampoo is blended into one super wash to make hair super happy.