Unless you've been hiding under a rock, you would know that BEARDS are all the rage. From longer stubble beards, to the balbo beard, to the dutch beard, to the ultimate bandholz beard (see the chart for beard descriptions) it appears that every man belongs (or wants to belong) to the "beard gang". Instagram accounts exist for women who love beards such as: @postbadbeards, @beardadmiration, @beardsandtats… it doesn't stop!
But a lot of men are struggling with how to care for their beards. Men of color often suffer from what I call "dry beard syndrome" or they struggle with beard growth. These are similar hair symptoms that women with textured hair suffer from and luckily we have products to combat these issues. However, fellas don't fret! There is an amazing product available for you to have a moisturized, shiny, soft and beautiful beard and that product is NUDE Beard Balm by Center Stage Cuts. I had a chance to sit down with Calvin Quallis, Founder and CEO of NUDE who discussed his amazing products and also provided tips on how to better take care of your beard and for you ladies to take care of your bearded men.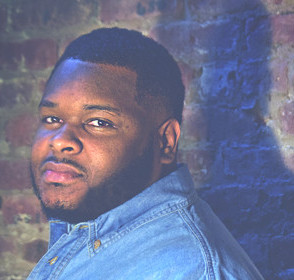 Tell us about yourself (where you and your team are from, occupation, etc.) What prompted you and your team to develop NUDE Beard Balm?
My name is Calvin Quallis. I am the Founder and CEO of NUDE by Center Stage Cuts & Center Stage Cuts – our barbershop, located downtown Newark, NJ.
I created NUDE Beard Balm out of desperation to find the most effective, yet natural, ingredients to replenish and treat the dry, dull and coarse beards of the men that visited our barbershop, Center Stage Cuts on a daily basis. We started out mixing up batches of our Beard Balm to give to some of our friends, family and eventually customers. They all loved the stuff!
I know you can't reveal all of your secrets, but what makes NUDE Beard Balm stand out from the rest of the beard products on the market?
Most beard products, on the market, are heavy waxes (they too are called Beard Balm) and beard oils. While these products are great for giving the beard a nice sheen, and most beard balms a firm hold, the buck stops there. These products lie on top of the beard and do nothing to really condition, moisturize, soften or create a healthier beard. Our products are made to combat the issues that most bearded men have. NUDE Beard Balm moisturizes, conditions, softens, promotes beard growth and eliminates frizz and stray beard hairs. Continued use of our Beard Balm enhances manageability and the overall health of one's beard. The beard oils and balms on the market today do not offer these same benefits.
Does your product use all natural ingredients?
Yes, all of our products contain natural and naturally derived ingredients. NUDE Beard Balm is made up of natural butters, organic oils and a botanical infusion of Chamomile, Rosemary, Slippery Elm Bark, Neem Leaf, Nettle Leaf, Marshmallow Root and Burdock Root. All of our ingredients were chosen for its effectiveness at combatting the issues that most bearded men have, like dry, coarse, frizzy, lackluster beards.

Men of color often suffer from what I call "dry beard syndrome". Which one of your products would help them combat this issue? And what is the best way to use it?
Our Beard Balm helps solve the 'dry beard syndrome' that you refer to. Here are some tips for any man with a dry beard:
1) You should shampoo your beard only once, every 10 days, with a sulfate-free shampoo.
2) In between shampooing your beard, you should rinse and condition your beard with a very good deep conditioner 2 to 3 times a week.
3) Apply NUDE Beard Balm, to a damp beard, once or twice daily, in the morning/and or evening for a very soft, healthy, thick growing beard.
Our Hydrating Shampoo and Hydrating & Nourishing Deep Conditioner are both really great product additions to one's beard regiment. (Ladies, a BEARD DEEP CONDITIONER??!!)
Let's talk about "struggle beards'. As someone who works in the natural hair business, what tips could you offer someone struggling with beard growth and overall a healthy beard?
I cannot tell you how important it is to use a gentle, sulfate-free shampoo and good deep conditioner. Using a harsh shampoo and shampooing your beard too often, even with a gentle shampoo, will only dry your beard out and cause even more breakage. A good deep conditioner will help to combat dryness and breakage.
You should never apply grease or products laden with petroleum and mineral oil to your beard or hair. Products containing these ingredients sit on top of the hair shaft and only mask the problem They can also exacerbate the issue and cause further dryness and damage.
Do not dry your beard with a bath towel. Either allow your beard to air dry or pat it dry with a tee shirt or paper towel. Bath towels will tug at the beard and leave you with lots of frizz and stray beard hairs.
Invest in a quality comb or brush for your beard. Cheap plastic combs, found on the shelves of pharmacies and grocery stores, pull and tug at dry, wavy, curly or coarse beards, causing unnecessary shedding and split ends. Kent combs, which we carry on our site, glide effortlessly through your beard, helping you to maintain a well-kept, healthy beard with very little shedding. A medium firm boar bristle hair brush is best for men with dry, curly or wavy beards, and will help to lay the beard down and manage stray beard hairs.
I cannot tell you how important it is to use a gentle, sulfate-free shampoo and good deep conditioner. Shampooing your beard too often will only dry your beard out and cause even more breakage.
A lot of dudes either have or are struggling to get the ideal beard (so much beard competition), with numerous fan pages of beards, it's really all the rage among men and women. How are you able to supply a forever growing bearded market? Will there be any new products? Perhaps a growth serum or supplements for beards?
The market for beard products are growing by leaps and bounds for sure. However, we are only interested in creating products that offer real benefits to our customers.
We have a number of products that we are working on and will release over the next few months. You can expect, from us, a Beard Oil, that will seal in moisture and provide superior shine. We are also working on a Beard Wash and Beard Conditioner, that will gently cleanse and provide intense moisture to the beard.
You can expect a lot of great products and interesting things from us in the coming months!
Calvin, where can people find you on social media and where can they purchase your products?
To purchase NUDE products: NUDE Products
Instagram: NUDEBeardBalm
Pintrest: AllNaturalNude
Tumblr: AllNaturalNude
This would make a great Father's Day gift!
If you're interested in learning more about the most popular synthetic and natural ingredients listed in hair products on the market today, sign up HERE to learn when our product ingredient dictionary becomes available.