On the search for some natural hair updos for February 14th date night? We've got you covered. We first spotted this cute hairstyle on The Feisty House. It's the perfect style for the upcoming Valentine's Day festivities. Whether you're boo'd up or single, there's nothing better than looking and feeling your best. Hair by Yolanda Jones, styled by Lora Kelley and photographed by Joey Kennedy for Once Wed.

SUPPLIES
• Oil
• Duck Bill Clips
• Hair Spray
INSTRUCTIONS
Step 1: Leave hair natural and feathered out.
Step 2: Add hair oil to provide shine and soften fly-aways
Step 3: Divide hair into 4 basic sections and clip off with duck bill clips
Step 4: Start with the section at the base of the neck – hold it out from the head, and using your hand, fold it over and tuck ends into the hair and pin.
Step 5: Do this with the next section of hair above the first section, but fold it the opposite way of the first – this will create dimension in the hair.
Step 6: Pick on of the side sections, and divide it into two more sections.
Step 7: Fold the lay one over the other, and fold them across the head, tucking the ends in and pinning as you.
Step 8: Use the last section of hair to lay over the top and across the back of the hair, folding across the hair, and tucking the ends under. Pin.
Step 9: Spray with hair spray.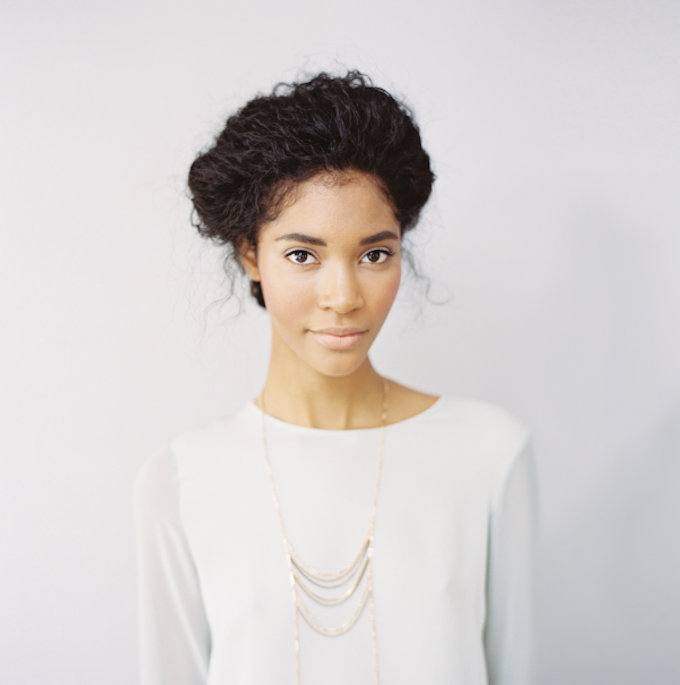 If you're interested in learning more about the most popular synthetic and natural ingredients listed in hair products on the market today, sign up HERE to learn when our product ingredient dictionary becomes available.