Not many people would consider taking the leap of faith from a high-paying Wall Street career into the risk-laden world of a natural beauty entrepreneur, but Nancy Twine, founder and CEO of Briogeo Hair Care, did just that and quickly discovered her true calling. Since hitting the market less than a year ago, Briogeo, pronounced [bree-oh-jhee-oh], has been quickly gaining clout with beauty industry experts and recently landed its first major contract with Sephora, making Twine the youngest African American female to ever launch a line with the major retailer.
Prior to getting her start in the beauty industry, Nancy spent close to seven years working on Wall Street. Though captivated by the energy of Wall Street, Twine decided to follow her passion, relying on her traditional, modest roots to build Briogeo, the now flourishing natural hair care brand. Nancy says of her line…
Beauty shouldn't be compromised by harsh or harmful ingredients. The Briogeo team has carefully formulated a gentle, plant-based assortment of hair care products that live up to their performance claims – delivering the vibrant, beautiful and healthy hair women endlessly strive to achieve.
Curls Understood™ was lucky enough to ask Nancy a few questions about the inspiration behind her brand's philosophy, image and future goals.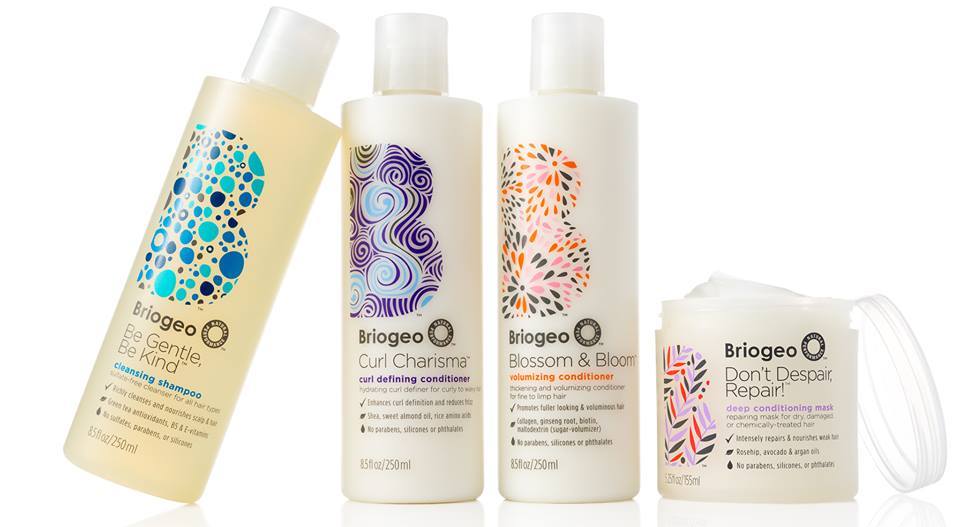 Was it an easy decision to leave corporate America and pursue your dream of launching your own product line? If not, what made you do it anyway?!
Leaving a career to pursue a passion can be a very stressful decision to make, but my excitement about launching my own line and confidence in the products are what helped make the decision a lot easier. I also spent close to 7 years in corporate America and felt that it was time for a change. I had paid my dues, so to speak, so it was refreshing to conquer a new and completely different challenge.
Can you share three lessons you've learned that would help other budding beauty entrepreneurs?
Be thoughtful about your approach. I've seen many entrepreneurs rush the decision-making process of launching a product or idea too quickly. Because of it, they made a lot of mistakes early on that hindered their success later on. Being thoughtful and taking the time to put together a well thought out strategy is key.
Find mentors who have experience or success in the industry you're looking to launch in. Learning from other's lessons and mistakes can help you avoid pitfalls early on.
Build a solid team of people who can help you drive your dream further. Whether it's a business partner or a friend that just wants to help, building the right team of people who are as dedicated to your goals as you are can help you reach your milestones further. You should look for passionate, motivated, and dedicated people you can depend on and that will work hard to help you succeed.
We love Briogeo's colorful packaging! What inspired the look behind the entire brand?
We set out to create colorful patterns that represent different product characteristics and hair texture types which ultimately reflect the uniqueness and individualism of each of our customers.
Briogeo products cross ethnic lines and cater to all hair types. When developing this product line did you discover that hair has more similarities than differences regardless of race? Are there lessons we can all learn from each other regarding hair care?
The Briogeo product line was formulated to meet the needs of a diverse array of hair textures and types, no matter what ethnicity or background. Our products cater to those with curly to wavy hair, those in need of volumizing or thickening, and those who suffer from dryness or damage.
While we recognize curl pattern needs can vary quite tremendously (hence the mix-and-match product approach that many curly girls take), we've seen an overwhelmingly positive response to our curl-specific products across curl type and ethnicity. This discovery has helped substantiate our method of identifying specific hair needs (i.e. frizz control, definition, moisture) and creating results-based ingredient blends that effectively respond to those needs. Ultimately this shows us that the focus of hair care isn't ethnicity, but rather it's about texture.

Five years from now, what will distinguish the Briogeo brand from its competitors?
Our goal is to continue to be innovative and thoughtful about the ingredient blends we use to create natural, performance-based products. For example, we use a unique blend of mollis leaf extract, tomato fruit ferment, and rice amino acids to define and de-frizz curls — and maltodextrin, a natural sugar starch, to thicken limp strands.
As we look to expand our assortment of finishing and styling products, we'll continue to find new ways we can harness nature to create safe, non-toxic, and high performing products that give you the results you expect and deserve.
We continue to use product test groups and targeted feedback to perfect each formula before we bring them to market and I think our focused approach will allow us to continue to create products that set us apart from the rest.
You can purchase Briogeo's products online and from various other retailers including Sephora.com, CurlMart.com and UrbanOutfitters.com.