We've showcased how to create the high bun for grown ups but we figured this was a great protective style for kids too. It's also a fairly easy and straightforward style for mothers on-the-go. You can probably get two or three days out of this. Just wrap a silk scarf around her head at night. With the help of Yolanda Renee's adorable daughter Taylor, this detailed tutorial breaks down how kids can wear a high bun. Hairstyles for toddlers with curly hair can be tricky but this one's a winner.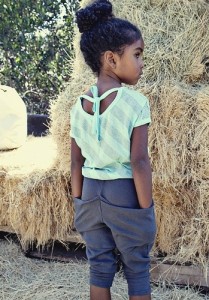 We always figure that gel is optional. It really depends on how sleek and polished you want the hair to look. While a polished look is never a bad thing, the more product you use the sooner you'll have to wash your daughter's hair. If you don't plan to redo the style everyday then using gel is a good idea as it'll help "keep" the style. We don't advice that you use gel if you're going to restyle your child's hair everyday. Product build-up is real!
This style works on all hair types and if your daughter's hair isn't long enough you can always use a donut to create the illusion of volume. See Jenell's tutorial in the grown up version of this hairstyle spotlight.
Now that you've seen how Taylor does it, learn how the grown folks do it. Oh and by the way Taylor, we agree that you were super cute as a baby ;)