Instagram is the third most popular social network after Facebook and YouTube. If you want to grow your business and/or brand in 2018 you can't ignore Instagram as a platform. With its ongoing algorithm changes and enhancements, you'll want to ensure you stay knowledgeable and update your strategy regular.
If you're already using the platform you're probably wondering how to get followers on Instagram faster? Or maybe how to build an Instagram following in 2018? You're in the right place!
I grew my first Instagram account @CurlsUnderstood to 61.5K followers in less than 2 years. That may sound like a long time but the truth is it's somewhat of a long game to grow a genuine following (assuming you want real followers who are interested in your brand and will engage). It's also worth pointing out that I built this following while working full-time and managing this site, Pinterest (25K), Facebook (21K), Email list (11K) and Twitter (2K).
You can learn more about my Pinterest strategies and how it grow my blog's page views to 200K a month here!
When I launched this site three years ago I found that the top 3 things that helped me consistently grow my Instagram following were posting regularly, using relevant hashtags and creating a unique style for my page.
These three tactics can definitely still work for you today but you must incorporate these additional seven tactics which take into account Instagram's most recent features.
Below I outline, with real examples, what it takes to build an Instagram following in 2018:
1. Define your STYLE
With so many Instagram pages out there you've really got to find a way to stand out. You can choose to pick a specific color palette for your photos, focus on a particular photographic style, post only video content or simply be truly authentic and post raw unedited photos/videos of your daily life. The point is that your personality or brand's style needs to be instantly recognizable and attractive to its target audience.
For @CurlsUnderstood I decided to post in multiples of 3 or 9, feature my followers/target audience in 95% of my posts and use high quality colorful photos. None of the other Instagram accounts posting women with curly hair were doing this at the time so I quickly stood out on people's feeds. I would also make sure my posts of 9 had a mini-theme be it a specific color, street style, black and white photos etc.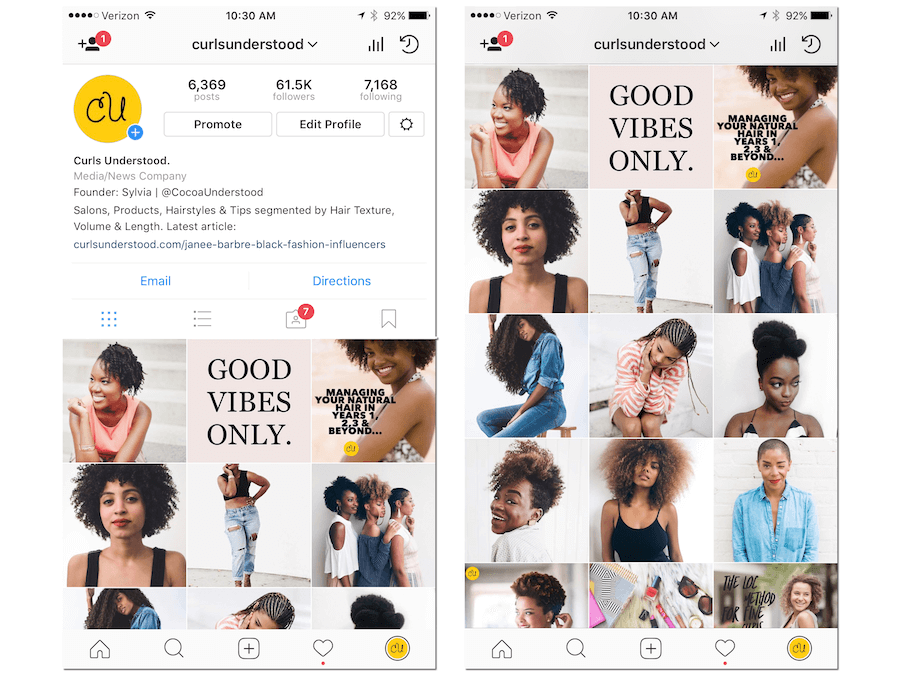 For my new personal blog
SylviaKerali.com
– where I teach others how to became successful bloggers – I decided to use a color palette of pinks, blues and neutrals. I want my posts to be aspirational so I feature photos of my travel adventures and me working for myself at home.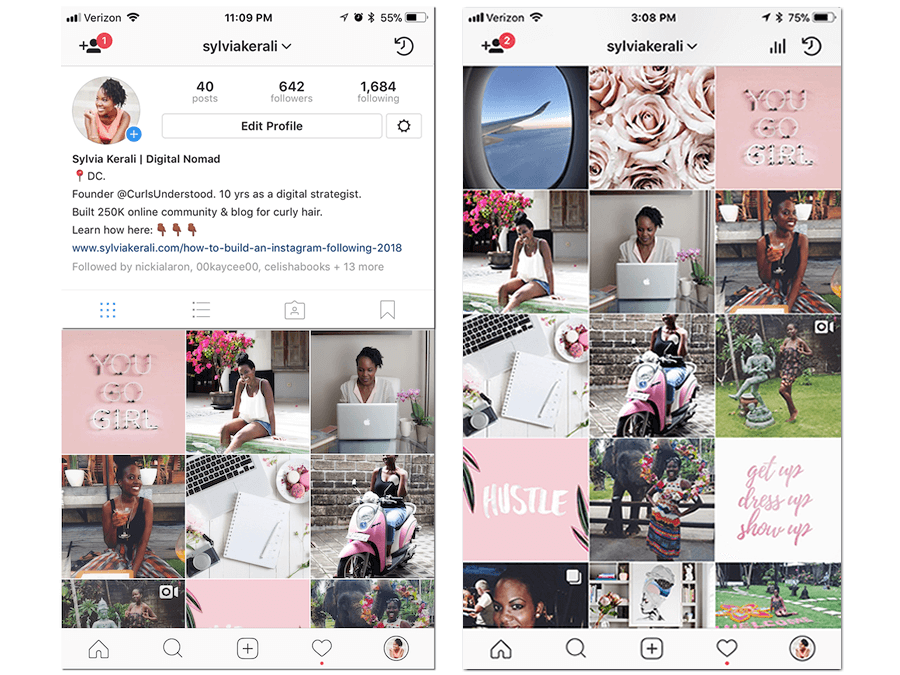 I love the apps UNUM, VSCO, Snapseed and WordSwag. They're great for enhancing and organizing photos/posts. And be sure to make your last 3-6 posts always look good and represent what you're about. Those are the top posts on your page and the ones people will use to decide whether or not to follow you.
2. Use LESS Popular Hashtags
You don't have to spend hours and hours researching hashtags but spend a good 15 minutes saving to your phone's notes the hashtags in your niche with less than 500K uses. Tools like Hashatit can also give you some fresh hashtag ideas. Just type a popular hashtag in the search box and see what similar hashtags the tool returns.
Using less popular hashtags will give you a better chance of being found by potential followers and appear on Instagram's "Top Posts". Below I show how using the hashtag #LocationIndependent (with less than 123K uses) got me into its Top Posts…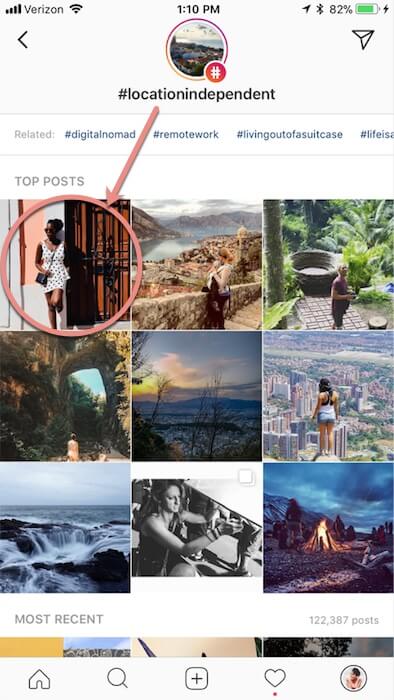 Lastly aim to use between 11-30 (the max) hashtags per post – especially when you first start out. Test different groups of hashtags to see what works best. Also post these hashtags in the main comment section and NOT as a separate comment underneath.
3. Write MEANINGFUL Captions
This is so key for garnering engagement from real people who value your content. This should be easy if you have a personal brand as you can talk about the things that challenge, inspire and motivate you. If you run a brand, tap into the concerns and issues that your followers face. Use relevant news like what's happening in popular culture to give you post ideas.
Ask your followers questions or even ask them for help. Anything that will encourage them to participate in a conversation with you is valuable content for captions.
Below is an example of a caption I wrote when I had less than 200 followers on @SylviaKerali. See how many likes and comments I gained simply by being honest, vulnerable and asking for advice…
4. Come Up with a Posting SCHEDULE
When starting out, consistency is key. Post at least once a day. With @CurlsUnderstood I was posting at least 3 to 9 times a day in the beginning. I would post 3 posts in the morning and/or the afternoon and early evening (more on optimal times to post below).
Below is my gift to you! It's one month worth of post ideas for Instagram. Pin it to one of your Pinterest boards for easy access!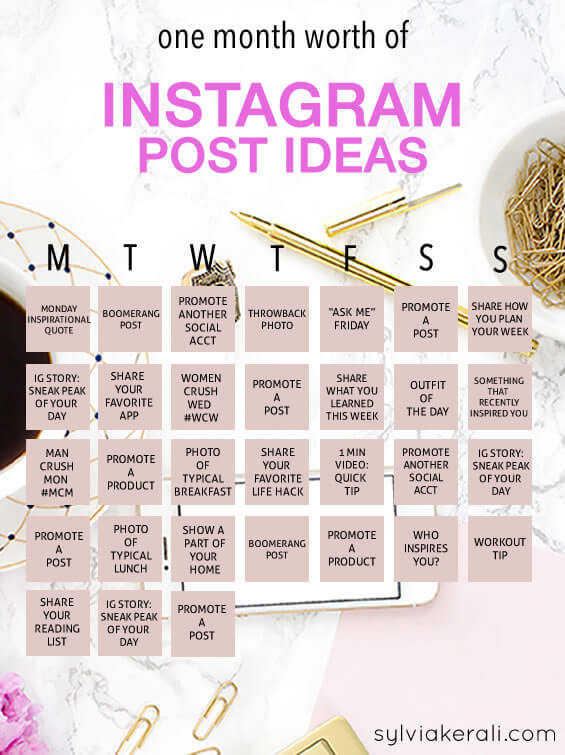 5. Use KEYWORDS in Your Profile Description
If you edit your Instagram profile settings you'll see that your "username" is also your handle, but your "name" can be anything you want (this is the bold type based right under your profile photo). For example, my "username" is @SylviaKerali but my "name" is Sylvia Kerali | Digital Nomad (I update this regularly as I'm constantly testing what works best). By including my full name and the term "digital" in the name field I make it easier for my target audience to find me in Instagram's search.
You should also update the one active link Instagram gives you in your profile. On both my personal and brand accounts I update the profile link to share the latest blog post from each blog.
If you've found these tips useful so far you may also enjoy these blog posts:
• How to Start a Hair, Beauty, Travel or Lifestyle Blog
• How my Pinterest Business Account Grew My Blog to 200K Page Views in 3 Months
• 7 Reasons Why Most Bloggers Fail
• 2018 Ultimate SEO Tips for Bloggers
• How to Find the Perfect Theme for Your Blog

6. Tag Brands & ESTABLISHED Accounts
If you're trying to establish yourself in a specific niche then you have to network… virtually. Tag more established brands and popular accounts that feature other brands. If they like your post and page, which they should if you're following the steps above, they'll feature you and provide you with much needed and welcome exposure. Just be strategic and tag only relevant pages.
When these established brands engage with your page it tells Instagram's algorithm that your page is also of note. Do this enough times and you will start to feature more on your follower's feed and even their "top posts".
7. Post at the OPTIMAL Time
This one requires trial and error. Depending on your followers, the best time to engage them may change. For example, if your target audience is parents they may be on Instagram at different times than say millennials.
Below is a general guide by SproutSocial.com on the best times to post on Instagram. Note that you should apply the times displayed below to your time zone unless your target audience is in a different time zone.
By posting at the optimal times you're more likely to get more engagement. Times like 5pm when a lot of people are commuting after work are good because people are usually on their phones.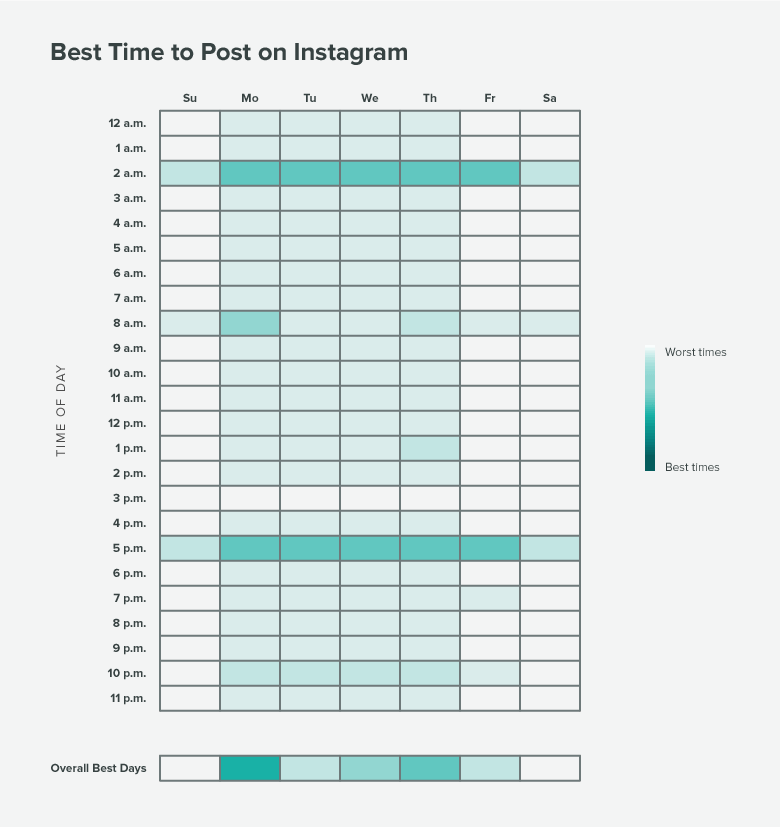 8. Comment, Like & ENGAGE with Your Target Audience
Every other day, I will click on a hashtag in my niche or go through my list of followers and comment, like or watch their content. I leave meaningful comments not just emojis. I do this because I want to know what my followers and target audience are doing, what their interests are and who they look to for inspiration.
When I do this I find that I get so much reciprocal engagement and it's genuine and real! Instagram likes it when people engage with your page so doing this more often will gain you followers fast.
9. LEVERAGE Instagram Stories, Boomerang and Post 1 Minute Videos
Video is HUGE right now on all social networks. Whenever you post a video of any kind people are more likely to stop scrolling through their feed and view it. On Instagram there are 3 types of video content to leverage. The first is Instagram (IG) stories – Instagram's answer to SnapChat.
IG stories are a great way to let your followers, and potential followers, get a sneak peak into your day-to-day activities or work day. I find that this engages a big chunk of my audience. You can now also post videos older than 24 hours! Definitely take advantage of this feature.
The second option is Boomerang. It's a cool feature which let's you record a micro video loop of any action. It's a simple and cute way to quickly boost your engagement and showcase your personality. You can use Boomerang in both IG stories and regular posts…
Video content can also be posted on your Instagram page/feed. These videos are a maximum of 1 minute but are the most valuable in engaging users on Instagram. They appear in your regular feed and have the ability to draw people in in a deeper more meaningful way.
Take the example below. I've received over 5.2K views to date. Since I have a brand that focuses on hair, it's important for my followers to watch how others style or take care of their own hair. That's why these type of videos resonate with my followers.
10. Convert to a BUSINESS Account
You may consider converting to Instagram's business account (very simple to do and easy to reverse). By using Instagram's business account features you can see your page's "insights" including impressions, specific follower numbers, demographic information, post and IG story stats etc. You can even use paid ads to expand your content's reach beyond your followers.
This said, I made the choice to stick with a regular account for my personal page (@SylviaKerali) because I'm seeing more engagement than when I briefly converted to a business account. I'm not sure why exactly. I can only theorize that Instagram wants to encourage business accounts to pay money to reach a wider audience therefore limits their content's reach.
By sticking to a non-business account I avoid the possible restrictions that Instagram may be imposing. While the insights and stats are helpful, right now I'm focused on growing followers. I'll switch to an Instagram business account once I reach 1000+ followers.
I hope this was helpful. What tips and tactics have you found useful for growing your Instagram following? Share below in the comment section and find more of my blogging tips on SylviaKerali.com