When I finally big chopped after 11 months of transitioning to natural hair, I found myself in the mist of what many of us refer to as the "awkward stage" of my natural hair journey. This is the point in which your hair is no longer considered a twa, but it's not quite shoulder length either. While this can be a frustrating time, it challenged me to explore the versatility of my then newly natural hair.
In this article, I am going to share some tips on how to best style your hair during the awkward phase of your natural hair journey.
1.
Use Bobby Pins
Bobby pins are life when it comes to styling natural hair in general, but they were especially helpful for me during the awkward stage. Whenever I styled my hair in a twist-out or braid-out I was never happy with the shape of it initially. I always used bobby pins to create the shape I wanted and to make sure my hair framed my face in the most flattering way.

You can also use bobby bins to create edgy styles such as a fro-hawk or even create bangs. Manipulating the shape of my hair with bobby pins was key to help me achieve my desired look, which ultimately gave me more confidence during the awkward stage of my natural hair journey.
2.
Use Marley Hair or Textured Clip-Ins
There really is no end to the styles that you can achieve with your natural hair using Marley hair or textured clip-ins. While not every natural's goal is to grow waist length hair, most of us long for the moment we can throw our hair up in a bun or rock a big bold afro. Lucky for us, both of those styles can be achieved with the addition of Marley braiding hair or textured clips ins/extensions.

My personal favorite styles include faux buns and elegant pin-up do's, which also double as a protective style. We all know that growing out natural hair takes time and it's easy to get frustrated when it seems your hair is making no progress. That's what I love about the afro textured hair that's available to us. We can use it to momentarily experience the length we desire all while protecting our own hair.
3.
Embrace the Puff
The tried and true afro-puff was by far my most worn hairstyle during the awkward stage of my natural hair journey. I loved everything about wearing my hair in an afro puff. It was super cute, I could style my hair in less than ten minutes, and I was able to maintain my hair without over manipulating it.

I also like this style because it can be worn in a variety of ways.You can rock the style with or without super defined curls, you can leave bangs out in the front if you choose, and for a more retro look you can even opt for gathering your hair off center for a side puff.
4.
Pick the Right Products
If you're looking for a defined twist out puff then Curls Understood highly recommends TréLuxe's Hi! Definition™ Curl Enhancer Styling Gel. It'll define you curls without stripping your hair of much needed moisture, all while providing great hold.
It's best to use this product on clean, soaking wet hair and a little goes a long way… we love it when you get more bang for your buck! You can purchase the Hi! Definition™ Curl Enhancer Styling Gel on discoverTreLuxe.com or at select Whole Foods stores.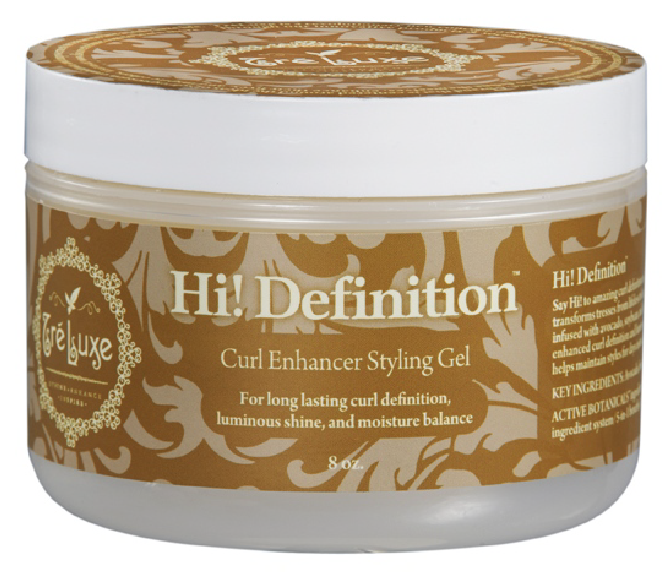 I hope this post has inspired you step out of you comfort zone and explore the many possibilities of you hair during the awkward stage. Which hairstyle are you gonna try first?