When I found out I was having a baby boy, I enjoyed the idea of taking care of only one head of hair. Growing up in a family where the men predominantly went to the barber shop for fades, I figured that my son would go to the barber when he was of age. After surviving the first six months, I did not think of creating a hair care routine for my toddler. I skated by not having to do anything major to his hair, besides light conditions and shampoos. But honey, once my baby's hair texture began to mimic my texture I knew that we would be in for a JOURNEY!
Emmanuel and I have thick, kinky, dry (and beautiful) hair. With that being said, our hair needs thick, creamy and highly moisturizing hair products to get us through the week before our weekend deep conditioning treatments. While Emmanuel primarily wears his hair in two-strand twists, I love wearing wash n' gos, twists outs and updos. We both need multifunctional products that live up to their promises and claims.
Thankfully, I had a pleasure of working with Scarlett, the creator and owner of Wonder Curl! Not only did she take time to assess my hair type, issues and product needs, she sent me three amazing products that were tailor fit for me: Butter Than Love Pudding, Get Set Hair Jelly and Restoring Hair Treatment. To make this review even more fun, I brought in my little one to help me explain what I enjoyed most about these products!
Emmanuel's Hair Styles
For my baby boy, it is always crucial to give his hair an intensive deep condition before we wash and condition his hair. When we tried the Restoring Hair Treatment, with avocado, shea butter and olive oil, his tangles just melted between my fingers. His curls soaked up this product! After letting it sit in for about 10-15 minutes, we rinsed out the product to find added luster, softness and most importantly … moisture!
Due to the outstanding results and how well his hair took to the restoring treatment, we decided to do a picked out twist out featuring the Butter Than Love Pudding and the Get Set Hair Jelly. Before installing his chunky two-strand twists, we added the Butter Than Love Pudding first (a light and fluffy formula that is super moisturizing) and then the aloe vera Get Set Hair Jelly to help set the curls. After letting the twists stay in for about 3 days, I released the twists, lightly separated and fluffed with my fingers and used a pick to lift his roots. I absolutely loved his twist out results!
Mommy's Hairstyles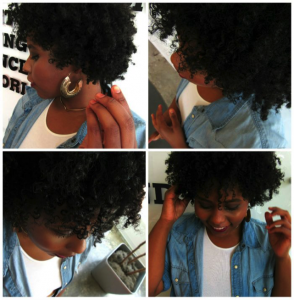 No matter the style, I like to keep it simple. With that in mind, I also used the creamy Butter Than Love Pudding as a leave-in and followed up with the Get Set Hair Jelly to hold the style. Instead of showing you how the product holds up throughout the week, I thought it was more important to show you how much definition my hair got. Do you see how my curls are just coiling and curling?
I don't just attribute the soft, curly definition to the pudding and jelly but also to the Restoring Hair Treatment, it worked wonders! Just like my son's hair, my tangles melted once the deep condition touched my hair. Even though this was a regular two-strand twist out, the Wonder Curl products took it to the next level!
All-in-all Wonder Curl fit the bill for our hair needs! If you are looking for products with moisturizing and restorative properties, Wonder Curl is the brand for you! Visit Wonder Curl for your natural hair needs and wants!
Main Photo: Romeo of ChiChiRomeoAndMe.com