Okay so I'm a lazy natural. That being said, each morning and night I make sure I spray my hair with water and seal with oil or a light leave-in conditioner. I just have to. It's too cold and my scalp is too dry for me to forget to do this. Here's a list of some bomb-ass oils and their benefits.
MARULA OIL
Marula oil is made from the fruit of the marula tree, which is native to Africa. It's moisturizing, but it won't clog your pores. It's rich in essential fatty acids that mimic those that exist naturally in the outer layer of the skin. But the best part? It's a surprisingly nonoily oil: It's quickly absorbed into the skin without leaving you greasy.
Curls Understood recommends MaurlaOil's Rare Oil Treatment by Paul Mitchell. Here are some fabulous uses:
For Skin
Massage a few drops into your skin for added hydration and nails for cuticle softening.
Deep Treatments
Apply 4-6 drops to dry hair before shampooing then follow up with a deep treatment.
To Pamper Scalp
Apply 4-6 drops into palms and rub hands together. Massage oil onto scalp.
Finishing Touch
Use on clean, damp or dry hair to smooth, protect and hydrate.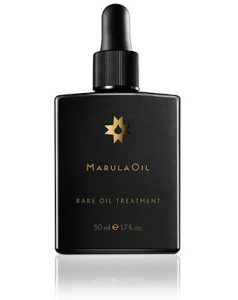 COCONUT OIL
In case you didn't know, coconut oil IS everything and for everything! Hair, body, cooking, you name it! This oil contains Vitamin E, reduces frizz, and damage while still leaving a shine. This oil can also penetrate the hair strands but I still use it with water, just in case! I always have coconut oil on deck.
OLIVE OIL
Now this oil, right here is the shit and urine!! One of my favorite oils and I absolutely love how it made my hair feel and smell. It's great for frizz and a dry scalp which I used it for. I also helps with split ends.
CASTOR OIL
You may also know this as Jamaican Black Castor Oil. This oil will replenish those edges and have you acting some type of way. On a serious note, castor oil improves circulation in your scalp to grow new hair and can be used to seal your ends to prevent breakage and split ends.
ALMOND OIL
This is a great oil for sealing and protecting you ends!
GRAPESEED OIL
Better seal those ends, againnnn! This can also help a dry scalp.
JOJOBA OIL
This can be use all throughout the hair to seal in moisture and help grow more hair. Works great as a pre-poo and can help control dandruff.
ARGAN OIL
Helps reduce frizz and split ends. This is also a great Heat-protectant! This oil is great for shine and is one of the most moisturizing oils out there!
I hope you guys try one of more of these oils if you aren't already. If you are, what are your favorite oils??