In my recent post, I gave you a little background on the Form Beauty brand and their product focus. I also spoke briefly about the free FORM Consultation which assesses your hair goals, lifestyle, and challenges to recommend your personal FORM regimen. In this post, I'll get personal with you and share my FORM Regimen, with a thorough review of each product.
The FORM Beauty brand features ten products: two shampoos, two conditioners, a leave-in/primer, 4 stylers, and one polish pomade. Of these ten products, I own seven full-sized products, six of which I purchased with my own coin.
You can use my code kingteeuhh to save 10% on purchases made through the FormBeauty.com site.
CLARIFY SHAMPOO
Claims: "FORM Shampoos provide a true cleanse for a fresh canvas"
• Removes 100% of buildup in one wash
• Is considered an occasional detoxifying treatment
• Uses gentle and naturally derived coconut-based surfactants
• Safe for color and chemically treated hair
• No SLS/sulfates, Silicones, Parabens, or Phthalates
I have to say, when I first received the package, I was initially upset at the size. How could such a tiny bottle of shampoo be so expensive? However, when you really consider how the product is intended to be used, it makes a lot more sense.
Being a clarifying shampoo, it isn't intended for heavy use. It also claims to do its job in a single wash. So in theory, if you only use it to clarify and when you use it you only shampoo once, the sizing makes sense. This is why reading is important.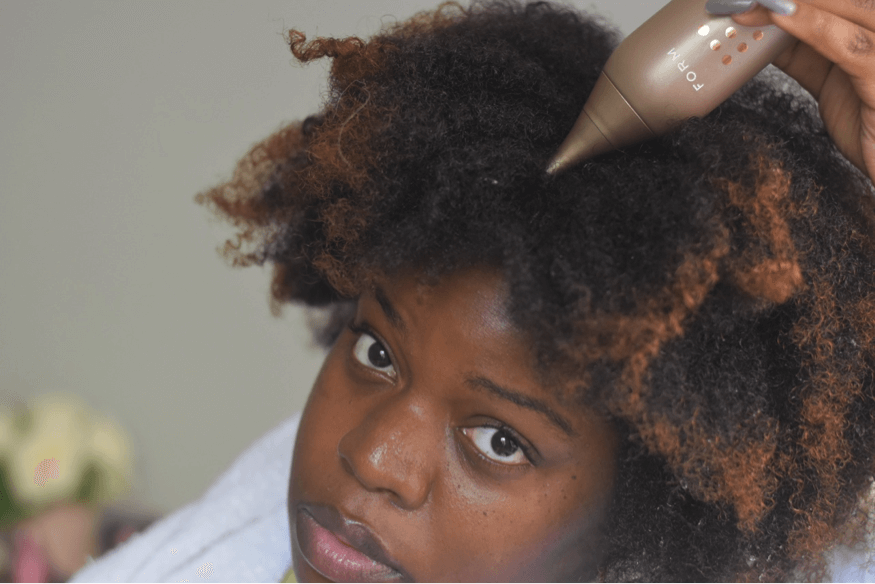 I really enjoyed the Clarify shampoo and didn't find it to leave the stripped feeling. The packaging addresses a functional need with the nozzle so that you can apply the shampoo directly to the scalp to clarify, which I love.
While using it in this way, I did notice that sometimes the nozzle closes without knowing which can be frustrating. As a result, I find myself alternating between applying directly to the scalp with the nozzle and placing the product on my fingertips first, then directly on the scalp.
Perhaps a different closure would work better. The product itself works great, each time I've used it I've only shampooed once and that was enough and I definitely recommend for anyone looking for a good clarifying shampoo. I'd give this product a 7.5 out of 10.
REVIVE CONDITIONER
Claims: "Revive for processed hair"
• For intense hydration and detangling
• Has rice protein that helps reduce effects of processed or highly manipulated hair
• Reduced damage caused by excessive heat treatment by 96% and reduced breakage by 89%
• No SLS/Sulfates, Silicones, Parabens or Phthalates. Safe for color & chemically treated hair.
This is definitely one of my favorite products from the line. Oddly enough, I was on the fence about it after the first use but the second time was so much better. You definitely need to use it on WET hair for the best results so keep a spray bottle handle.
It offers great slip, impeccable moisture–my curls were poppin' almost immediately. The Revive Conditioner is specifically formulated for processed or damaged hair and as a result helps reduce breakage, hydrates, softens, and detangles.
It detangles like a dream and after a 30-minute deep condition with heat, my hair was feeling amazing. Since I'm color treated, this is so important! I highly recommend for those dealing with color treated, damaged, or highly manipulated hair. I can't wait to see how Revive transforms my hair over time. I'd give this product a 10 out of 10!
Remember to use my code kingteeuhh to save 10% on purchases made through the FormBeauty.com site.
WHAT IT SAYS ON THE BOTTLE
Clarify Shampoo
Despite regular washing, oils and product residue can buildup on hair, preventing vital moisture from reaching your strands. Clarify is a powerful treatment shampoo that gently removes 100% of buildup in a single wash, freeing your strands to better soak up moisture.
Revive Conditioner
You love relaxing, keratin treating, coloring or heat-styling your hair, which means you've battled breakage, frizz and dryness more than once. Win the war with Revive, a protein-rich conditioner that's specifically formulated to give you the hydration and support your hair needs.