As naturals I'm sure we've all tried Eco Styler Gel in some way. Gelling down those edges, slicking that pony tail down, or even slaying that wash and go. I have tried various types of Eco Styler Gel and I must admit that this is by far my favorite. I'm going to share with you all the reasons why you should add this product to your natural hair staple list.
First and foremost, lets discuss the specks of this Eco Style Black Castor & Flaxseed Oil Gel
. It is alcohol free with a MAX hold. It claims to be anti itch, no flaking, and no tack. Also claims to be for all hair types. Sounds pretty good right? Nothing we wouldn't expect from a eco styler gel. Now here is where it gets really cool. This gel has Black castor oil and Flaxseed oil in it.
It also has vitamin E, fiber, and Omega 3. Can we just say together… YES! If there are any ingredients you want in your gels these are definitely at the top of the list. All these things together promote hair growth, adds shine, nourishment, and repairs damage. Why wouldn't you want your gel to have these properties. On your staple list yet? Well keep reading, here is where I give my first hand experience.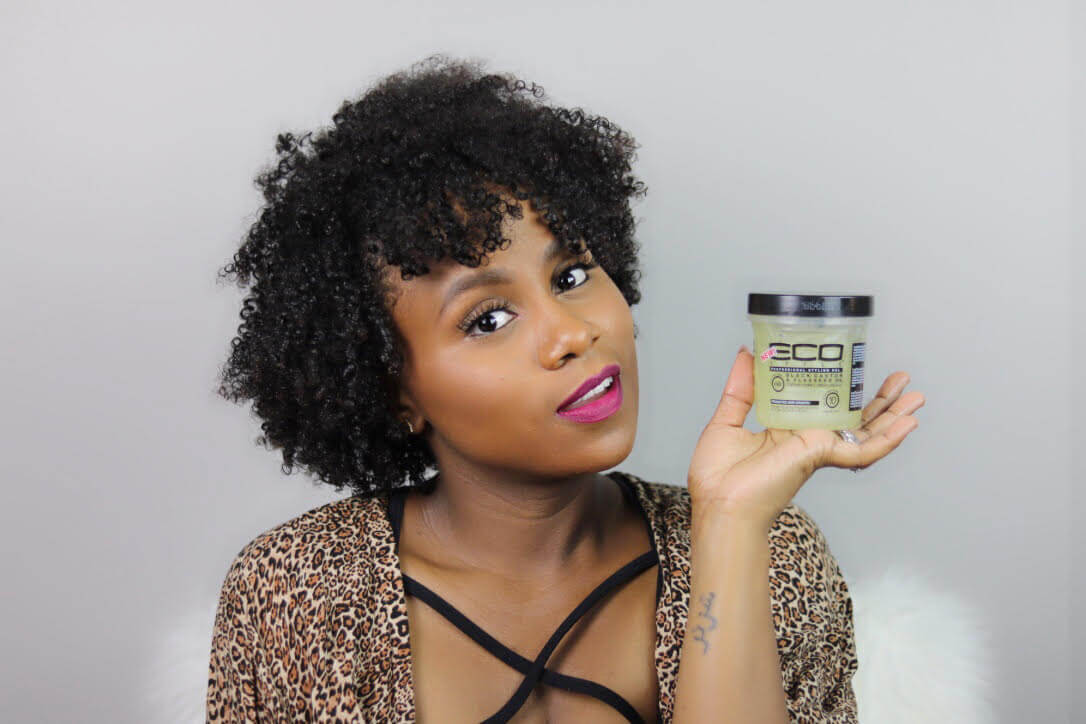 Honestly, I have to admit, I wasn't expecting this gel to be that different from the others. Though the ingredients sparked my interest I still wasn't fully convinced there was going to be a great difference. Boy, was I wrong. I ordered mine online from a online beauty supply shop. It was about 4$. When I received it I immediately opened it to smell it. It smells so GOOD. It has a very fresh scent to it.
The next day I sat down to do a wash and go on my freshly deep conditioned curls. I noticed upon touching the gel the consistency was allot different from the other gels. Its a bit thick. This made me do a product test mixer on the back of my hand with my cream leave in conditioner I was going to use. As I mixed the leave in and gel on the back of my hand it became very thick and white. That would have shown up as residue in my hair.
So I opted to get a light liquid spray leave in conditioner instead. I would recommend you do the same. Keep it light since this gel is pretty heavy. As I smoothed the gel through my hair it defined and moisturized my curls. My curls were shiny and bouncy. I was loving the application.
After I finished fully saturating my hair. I allowed it to air dry. Once it was done I had beautiful curls. However, the gel cast was really strong. I tried using a light oil on it to break it but that wasn't strong enough. I end up using a heavier oil to break the cast and once I did that, my hair was amazing!
It was bouncy, shiny, moisturized, and very defined. I absolutely loved the results! I would totally recommend you give this gel a try. You will not be disappointed. Now you can add it to your staple list!
WHAT IT SAYS ON THE BOTTLE
Eco Style Black Castor & Flaxseed Oil Styling Gel helps to nourish, repair and grow hair. Wheat protein strengthens and protects hair. Like all of our styling gels, it is weightless and will leave your hair with a healthy shine and superior hold.
• Shines, Nourishes, Repairs & Grows
• No Flake, No Tack, Anti-Itch
• contains Vitamin E, Fiber & Omega-3