I'm always fascinated with how much I learn about my hair as time passes. In my ongoing search to find a product that was lightweight for my fine strands but thick enough to effectively seal in moisture; I was then introduced to CURLS' Whipped Cream – hope renewed!
I started my natural hair journey in 2010 and big chopped in 2013. Although I have been on this natural hair journey for quite sometime, there is so much to know about your hair. I have low porosity hair so it is extremely hard for my hair to absorb moisture. I have been using Shea Moisture Curl Enhancing Smoothie for quite sometime, but it didn't quite do the trick. Now I love me some Shea Moisture so this is not to bash them at all, but I have found the CURLS Whipped Cream does wonders for my hair.
First, let's start with the smell and texture of the product. Imagine vanilla and sugar, mixed with deliciousness! The texture is exactly how it is described; a whipped airy cream. I have used this product mainly as my "Cream" after I complete the L.O. steps of the L.O.C. method. I cannot say how much this product leaves my hair feeling soooooo soft and moisturized! Usually I style my hair in a braidout using this cream because it helps to stretch and elongate my curls.
This product is packed with natural oils such as, Coconut Oil, Sunflower Seed Oil, Olive, Jojoba, Avocado oil and some enriching butters. That combination alone penetrates and hydrates my tresses. Now I must emphasize how it contains NO sulfates, silicones, parabens, mineral or petrolatum oils!
I have only been using this product for a couple of months but I have noticed that I get the same results when I apply the product on damp/wet hair or if I am refreshing an old style. I have a few other CURLS products in my stash but I have completely fallen in love with the Whipped Cream. This product can be a bit pricey retailing at $17.00, but I lucked up and got a good deal at a local beauty supply store.
I rate this product 10 out of 10 because it is very rare that you find a product that actually provides what it says it offers!
MY RESULTS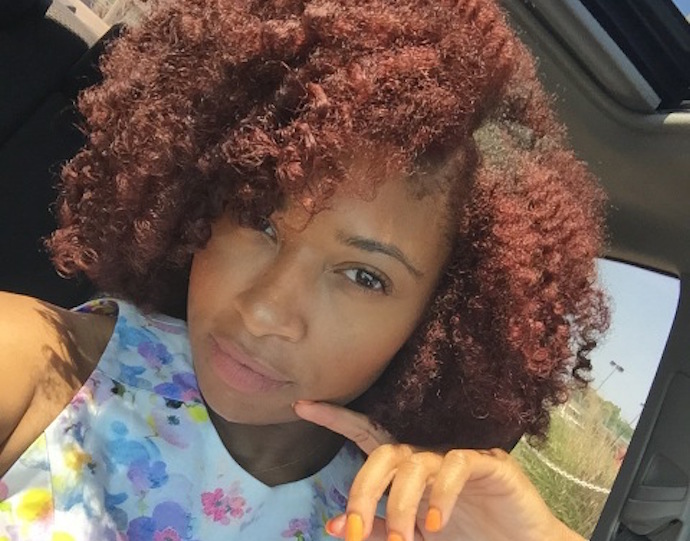 WHAT IT SAYS ON THE BOTTLE
Heavy Curl Cream (no hold) – Ideal for thick, kinky, dry curls, and natural styles. Looking for a heavy curl cream to hydrate and define your thick kinky textured curls? Whipped Cream is the perfect product for twists, braids, locks, fros and more!