Meet Ava Raiin. An electro-soul singer-songwriter from Minneapolis, MN. Heavily influenced by Prince, Diana Ross, Sade, and Aaliyah (to name a few), Ava serves up eclectic music that inspires. Curls Understood™ caught up with Ava during her down time to find out how she manages her natural hair while being on tour. She's sang back-up for some of the best (Chrisette Michele and Solange) while not recording for her upcoming EP.
1. Describe your musical style for us?
I consider my music Electro Soul / Experimental, It's a bit all over the place! But vocally the foundation is R&B / Soul and the music production is a hybrid of my two favorite genres R&B / Soul and electronic experimental. I'm having a lot of fun playing around with all sorts of sounds and sharing some honest experiences.
2. You recently changed your image – was it because you became natural or your music? Both? Talk us through the transformation.
The change was a natural evolution; I sort of outgrew my style as my lifestyle changed and became more demanding. I had long straight hair that required a lot of maintenance that I just didn't have time and energy for anymore with (I travel a lot and work long hours so maintaining the style became difficult, not to mention that when I do happen to have free time the last thing I want to do is spend hours on my hair). I needed something low maintenance but that would still allow me to express myself.
Once I decided to start wearing my natural style I committed to a one year challenge of not doing anything to it; no heat styling or harsh products / chemicals which made things lot easier. I just let it do its thing. I'm proud to say that I've recently completed the challenge and as a reward I've added a little color to my hair, for the first time.
I've also noticed that this low maintenance mentality has even transferred over to other areas of my life, to include my personal style, which I'm having a lot of fun with as well. I think growing and evolving as a person is what life is all about. I'm having fun and enjoying the process.
3. Has becoming natural changed the way people have received you in the music industry? For example, do they assume things about you/your music?
I can't be totally sure! If anything I hope it will inspire others to express themselves in their own way and be open minded in their judgements of others who do the same.
4. You've been on tour with Solange and Chrisette Michele. They are two of Curls Understood's favorite naturals! Would you say the natural movement has swept the music industry in the same way it has the rest of the world?
I wouldn't say the movement has impacted the music industry in the same way, but more and more artists are choosing natural, which I think speaks volumes. The natural movement gives people a sense of freedom, to be themselves, to wear whatever style suites their personal preference and lifestyle vs the old feeling of being obligated to wear a certain style because it is mainstream or viewed as more "acceptable". Times are changing and its a great thing to watch.
5. What's the one hair product you couldn't live without?
Purely Perfect – Cleansing Cream, I love this stuff! It's actually a new product that doesn't have any detergent so no suds, just aloe vera and essential oils. It's gentle and makes my hair super soft, smooth, moisturized and very easy to finger detangle.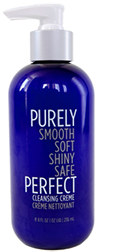 6. For many naturals it's a journey to fully understand their hair. It's a process of trial and error. What was your "Curls Understood™" moment (the moment you felt like, "I've got this!")?
When I discovered the LOC method for product application and two strand / bantu knot twists for style setting (wet and dry). Both have made styling and maintaining my type 4 hair a breeze.
7. Where can we hear more from you? Album, events, etc.
AvaRaiin.com and Soundcloud.com/avaraiin Look out for new music in the spring!