Au Rebelle (formally Anu Naturals) is an all natural product line that provides hair products essential to one's hair, based on hair type and hair need. Whether you need to moisturize, need something to seal or condition, Anu Naturals provides all products to fit each of these needs.
I'm always looking to try new products, to add to my "go to product list". I came across this product line a few months back on Instagram and decided to give this line a try. Initially I didn't order the entire line together, for fear that it wouldn't work on my hair. I only ordered two of the products initially and then order the 3rd product later on to completed the line.
I used the "LCO Kit" recently to style my hair for an event I was hosting. The LCO Kit consisted of:
Liquid- "Just Water" product in a spray bottle that serves as a water based leave in.
Cream- "Vanilla Cupuacu Hair Lotion" a creamy, protein free, moisturizer that coats the strand
Oil- "Just Oil" a blend of essential oils fused together, used to seal the hair after using the Liquid and Cream.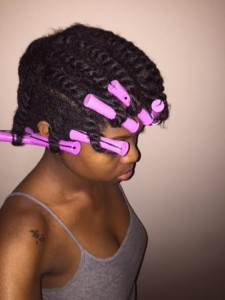 Overall, these items used TOGETHER are amazing. They compliment each other so well, and my hair was EXTREMELY Moisturized. I would give this line a 8/10 over all. The only reason it doesn't receive a 5/5 is because of the amount of product you get for the price. The quality is great, the shopping is FAST. Great product! I used these to do a flat twist, with perm rods on the ends.
Products are moderately prices, between $8-20. Some products can be purchased in bundle kits, or separately!
Let me know when you try this line, and If you like it like I did. Thanks for reading guys!
WHAT IS SAYS ON THE BOTTLE
Moisturizing made easy. Get ready for ultimate soft strands when you use these products together. This package includes Just Water, a bigger sized Just oil and Vanilla Cupuacu Hair Lotion. First you mist your hair with Just water, next apply Vanilla Cupuacu Hair Lotion , finally you seal with Just Oil Sealing Oil. Use for twist outs , braids outs or for longer term protective styles to maintain high moisture levels.
Please leave your reviews below and be sure to state your hair type or add it to your profile. As we receive more reviews we'll update "The Breakdown" summary.