When you're longing to achieve a really defined wash and go that not only makes your curls pop but gives you bounce and shine, finding a good product is a must to achieve the desired look. I'm going to share with you all my experience in using the III Sisters Of Nature Curling Gelo
. I'll also include the hair type that would benefit more from using this product.
When you're sourcing the right gel for your hair do be mindful about the texture, and density of your hair, look at the ingredients, look at what the product has to offer your hair and how using it will be beneficial, no one knows your hair better than you!
When I buy gels I use two different types depending on the hold that I want it to create in my hair, so if I'm going out to an event or a special occasion, I would buy a gel that will provide my hair with a long-lasting hold.
If I want to wear my hair loosely and want more of a light hold in my hair especially for everyday wear or in the summer periods, I opt for a much soft holding gel because I want my hair to be light and not weighed down, not too greasy and tacky and helps to keep my hair moist and curly too.
Three Sisters Of Nature Curling Gelo
is alcohol-free it contains no wax or silicones, no petrolatum or mineral oil, no parabens or formaldehyde, no carbomer, no gimmicks. The product makes no mention about being for all hair types, but it does state that this gel will give you a super soft hold, meaning it will give you a light soft hold in your strands than a super defined hold.
WHAT WILL THIS GEL DO FOR MY CURLS?
3 Sisters of Nature has created this gel to help define and elongate your natural curl pattern, it will strengthen and nourish your hair and you will experience softness as well as shine in your hair. It will give you frizz-free curls that are not greasy or has that tacky feeling, you will experience no drying curls, but you will get lasting curls. This product has humectants that are great for drawing moisture from the air into your strands that will give your hair soft, moist and healthy looking curls. I guess for many this may tick some of your boxes!
HOW I USED THIS PRODUCT
After I've pre-pooed my hair from using Coconut Oil the night before, I would rinse that out, wash my hair and deep condition my hair using heat for my low porosity hair. After hair has been rinsed out using warm water, I would use a t-shirt to blot out excess water and allow room for me to apply my Shea Moisture JBCO (Jamaican Black Castor Oil ) Leave-In-Conditioner. This gel mixes well with this leave-in conditioner, so always be mindful to mix the products in the palm of your hands first to see if it mixes well with the gel, because this gel does not mix with a lot of leave-in conditioners.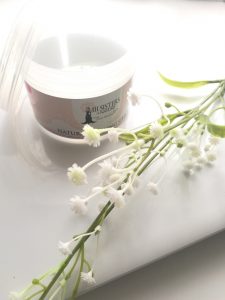 I would apply a good amount needed for each section of my hair, as this gel is quite watery, clear in colour and a little of this product will go a long way trust me. After applying the product, it made detangling easy for me and the slip is good, it applies smoothly onto my strands, my curls were nicely clumped and it really did define my curls and my hair felt most, no tackiness, and soft and well hydrated and light weight too. My curls received a lot of shine, I received many compliments from using this product for my wash and go style to my productive bun style.
This product is great because the next day I only needed to spray my hair with water to reactivate existing products in my hair and my hair looked and felt like day one hair all over again.
This product will not give you a super defined hold, but it will give you a super soft light hold that can be worn in warm climates and this is what I look for in a product for warm climates and for an everyday wear. You will not get any gel cast from using this gel, but you will get great curls from using this gel. The smell of the gel reminds me of cotton candy and smells awesome, the smell is still present in your hair and in my opinion is not an overwhelming smell. The texture of the gel is like a gel, it is transparent and lighter in texture than your normal gels.
I feel that this gel will work best for those that have loose curls or wavy curls and those that have 3c 4a curl type pattern, it will define your curls better.
MY VERDICT
I give this product a 10/10, a good product is one that you only ever need to use once and use water to reactive existing product, if you need to apply it to your hair time and time again throughout the day, then it is a sign that you need to change that product because it is not working for you, which is why gave this gel a high ranking, because it only needs to be reactivated with water and you are good for the whole day.
I hope this has helped and do leave me a comment if you have used this product, how did it work for you?
WHAT IT SAYS ON THE BOTTLE
The curling gelo helps enhance your natural curl pattern while providing you with a frizz free, non greasy, non drying look for superior long curls, waves and twists. Superior moisturizer. Elongates curls. Enhances waves.