It's been an entire year since I started my journey to healthy hair and I've learned some awesome things along the way. See, the trick is not to simply have natural hair. To accomplish beautiful natural hair, you must also pursue healthy hair. While you try to start your own journey here are some tips to get you started:
1.
Deep Condition At Least Once A Week
This is a strategy I have recently incorporated into my hair regimen and I notice my hair can hold a lot more moisture without drying out so much.
2.
Schedule Trims Like Clockwork
At least every 6-8 weeks depending on the condition of your hair. What good is long hair if it's frayed and splitting? The best thing to do to avoid heat damage is wash and blow dry your hair with a heat protectant, and go to your local beauty salon and ask for a "dry trim." This simply means they will trim your hair in its current condition, so make sure to make it easy for your stylist by arriving detangled.
3.
Wear A Protective Style
When you first start wearing your hair natural after years of wear and tear, you won't see your true curls. So just wear a protective style until you're comfortable. It may take weeks to months until you see your curls return, but don't give up!
4.
Use The LOC Method
Trying the LOC method changed my life forever. It took me a while to find the right products, but if I can do it so can you!
5.
Straighten Your Hair Once A Month
I only straighten my hair once a month, if that. The more you straighten your hair, the more you risk losing your natural curl. If you don't follow any of these tips, definitely follow this one! Stepping away from the curling iron allowed my own curls to slowly return over time. (At the end of this post I'll show you my results from a year long no heat challenge!)
6.
Don't Be Afraid Of Bad Hair Days
Don't be afraid of bad hair days because they will come. My biggest fear was gym day and the thought of sweating out my hair and having to rewash it. Experiment with protective gym styles and this won't be an issue. Never skip a workout because of your hair.
7.
Find YouTubers With Hair That's Similar To Yours
Find YouTubers with hair that's similar to yours for tutorials and inspiration. Their videos will give you an idea on what works for your own hair.
8.
Blow Dry Hair Once A Month
It's okay to blow-dry your hair from time to time. I try to limit my blow dry use to the days when I need a trim only or when I am deep conditioning. If you don't have a hooded dryer, handheld blow dryers and covering your hair with a plastic cap is the next best thing.
9.
Dye Your Hair With Natural Products
If you want to dye your hair look for vegan products that won't damage your hair or loosen your curls. I recommend using Manic Panic hair dye, because it's vegan, semi-permanent, and you can mix the colors
10.
LOVE Your Hair Texture
Lastly, L-O-V-E your texture, volume, and length. It's what makes you unique!
The following picture is the first day of my no heat challenge: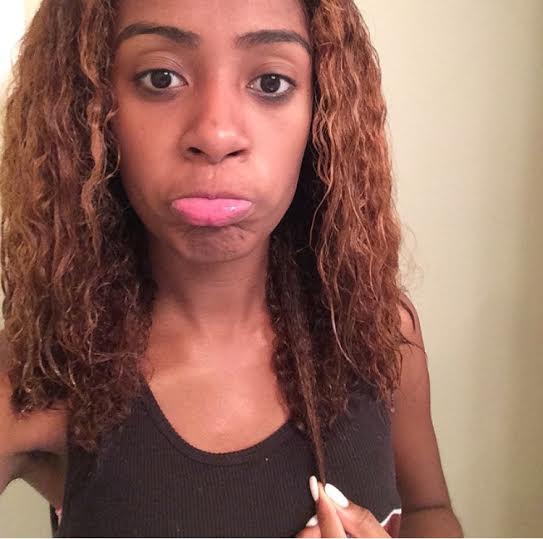 Here I am a year later!